Career
From the mid forties on, Agee made a set at Huston—it was authentic admiration, or hero worship, but it was also a pioneering case of the movie critic lusting to sit at the all-night dinner with the big guys and walk away with a writing job. Agee worked on the script and commentary of The Quiet One (49, Sidney Meyers); he did a script for The African Queen (51, Huston), which was substantially redone by others; he did the "Bride Comes to Yellow Sky" episode from Face to Face (52, John Brahm and Bretaigne Windust), and he wrote the first screenplay for The Night of the Hunter (55, Charles Laughton).

The last was undoubtedly his most valuable work, and even if it is true that Agee's script was painfully long and literary, and not even quite finished, Agee's vision and his Tennessee roots meant a lot to Laughton.

Three years after his death he won a Pulitzer for his novel A Death in the Family.
Personality
James Agee looked a lot like a young Robert Ryan; he behaved as self-destructively as Nicholas Ray; but he was only himself as a writer on film. As one of his biographers, Laurence Bergreen, has written, "To Agee movies were not primarily a form of entertainment. . . they were . . . the indigenous art form. Good or bad, vulgar or exquisite, they were, more than any literary form, the mirror of American life. They were cheap, rude, hypocritical, democratic, occasionally inspired, usually humdrum—in short, they were American. For this reason he longed to find his way, however roundabout, into them."

Agee wished to be perceived like a character from the best movies—intensely romantic, darkly handsome, and desirable, yet aloof, tough, moody, and doomed. Plainly, even if you know, intellectually, that some films are foolish, still, it follows that anyone wanting to live on the screen has to have faith in the grandeur and gravity of film. And so it follows that Agee's adult life coincides with the great age of self-belief in American cinema. Indeed, in 1945, he could write, in candor, "I can think of very few contemporary books that are worth the jackets they are wrapped in; I can think of very few movies, contemporary or otherwise, which fail to show that somebody who has worked on them . . . has real life or energy or intensity or intelligence or talent."

He was always a womanizer, and a mess personally, but he found a journalistic voice that lasted for about twenty years.

He was far from reliable—he could write off Kane as a reservoir of hackneyed tricks, and he was of the opinion that Chaplin and Huston were without equal in America. But he wrote like someone who had not just viewed the movie but been in it—out with it, as if it were a girl; drinking with it; driving in the night with it. That direct physical response was new, it was done with terrific dash and insight, and it surely intuited the way people responded to movies in the forties.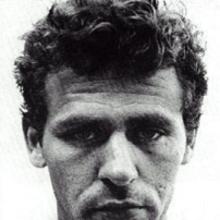 Contributor  
Major Achievements

Pulitzer Prize for Fiction 1958 for A Death in the Family

Works

poetry: Permit Me Voyage (1934, poetry)
book: Let Us Now Praise Famous Men (1941, with photographer Walker Evans)
book: The Quiet One (1949)
novella: The Morning Watch (1951, novella)
Novel: A Death in the Family (1957, novel)
book: Agee on Film (1958)
Short stories: Four Early Stories by James Agee (1964, short stories, posthumous)
essays: The Collected Short Prose of James Agee (1968, essays, posthumous)

Relatives

Hugh James Agee (postal worker, d. 18-May-1916 automobile accident)
Olivia Saunders (m. 28-Jan-1933)
Joel (b. 20-Mar-1940)
Julia Teresa (b. 7-Nov-1946)
Andre Maria (b. 15-May-1950)
John Alexander (b. 6-Sep-1954)
Fr. Erskine Wright (stepfather, m. his mother 1924)
Nationalities
Ethnicity
School and college years description
Go
up
Edit Profile