Grigorii Mikhailovich Kozintsev
Career
With Leonid Trauberg and Sergei Yutkevieh, Kozintsev was a founding member of the Factory of Eccentric Actors. After that, he became the regular collaborator of Leonid Trauberg in directing films. That partnership is best known for The New Babylon, a satire set in Paris during the 1871 Commune, and the Maxim films that trace the development of a party worker in the years 1913-20. They made the first postwar feature at Leninfilm, Plain People, but its release was held up for eleven years by the authorities.

From that point, Kozintsev worked independently on a series of prestigious, literary transpositions. They are meticulous, literal films, inclined to make crude extensions of the original w'orks toward Communist ideology. The acting is old-fashioned and Kozintsev labored to capture a visual equiv alent of the density of Shakespeare's verse. His Lear; especially, is pedestrian, but Hamlet is graced by the performance of lnnokennty Smoktunovsky, while the overemphatic Don Quixote allows every indulgence to Nikolai Cherkassov. Unfortunately, he never escaped the Russian taste for academic beauty—the one solacing proof of art for creators controlled by bureaucrats. Thus, the lamentable prettiness of so much Soviet composition, obscuring the lack of purposeful structure

Worked as an assistant stage designer at the Solovtsov Theatre, Kiev. In 1920, moved to Petrograd. In 1921, with L. Trauberg, founded FEKS (Fabrika Ekstsentricheskogo Aktera).

In 1924, with actors, joined Sevzapkino, now Lenfilm. First film: Pokhozhdeniia Oktiabriny, 1924. Until 1945, all his films were made with L. Trauberg: Mishki Protiv Iudenicha, 1925, Chertovo Koleso, 1926, Bratishka, 1927, and Novyi Vavilon, 1929.

His first sound film was Odna, 1931. From the mid- 1930s, forced to make films under the strictest party control: Iunost' Maksima, Vozvrashchenie Maksima, and Fyborgskaia Storona. His last film with L. Trauberg was Prostye Liudi, 1945, which was shelved until 1956.

He is best-remembered for his Shakespearian adaptations: Hamlet, 1964 (prize-winner at the Venice Film Festival) and King Lear, 1971. Wrote a book about Shakespeare. Taught at the FEKS, 1922-1926, at the Leningrad Institute of Stage Art, 1926-1932.

And at the Gerasimov Institute of Cinematography. 1941-1964. Professor there. Head of a workshop at the Lenfilm Studio, 1965-1971.

Trained a generation of film-makers.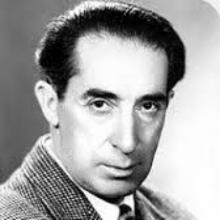 Born March 22, 1905
Died
May 11, 1973
(aged 68)
Nationality
Ethnicity: