Larissa Efimovna Shepitko
Education
She went to the All-Union State Institute of Cinematography in Moscow as a student of Alexander Dovzhenko. She was a student of Dovzhenko's for 18 months until he died in 1956. Shepitko graduated from VGIK in 1963 with her prize winning diploma film Heat, made when she was 22 years old. It tells the story of a new farming community in Central Asia during the mid-1950s.
Career
Shepitko's next film Wings concerns a much-decorated female fighter pilot of World War II. The pilot, now principal of a vocational college, is out of touch with her daughter and the new generation. The film aroused considerable Soviet press controversy at the time, as films were not meant to depict conflicts between children and parents (Vronskaya 1972, p. 39).

In 1969 she shot her first color film, a musical fantasy film titled 13 PM, a New Year's revue starring Vladimir Basov, Georgy Vitsin, Zinovy Gerdt, Spartak Mishulin and Anatoly Papanov.

Shepitko's third film was You and I (1971). This was her second film in color, and the last. It was favorably received at the Venice Film Festival, but lacked proper public exposure in the Soviet Union.

The Ascent (1977) was her last completed film and the one which garnered the most attention in the West. The actors Boris Plotnikov and Vladimir Gostyukhin received their first major roles in the film. In it, Shepitko returns to the sufferings of World War II, chronicling the trials and tribulations of a group of partisans in Belarus in the bleak winter of 1942. Two of the partisans are captured by the Wehrmacht and then interrogated by a local collaborator, played by Anatoly Solonitsyn, before one of them is executed in public. This depiction of the martyrdom of the Russians owes much to Christian iconography. The Ascent won the Golden Bear at the 27th Berlin International Film Festival in 1977.

Shepitko's growing international reputation led to an invitation to serve on the jury at the 28th Berlin International Film Festival in 1978. However, she was unable to complete any other films.

Shepitko died in a car crash on a highway near the city of Tver with four members of her shooting team in 1979 while scouting locations for her planned adaptation of the novel Farewell to Matyora by Valentin Rasputin. Her husband, the director Elem Klimov, finished the work under the title Farewell and also made a 25-minute tribute entitled Larisa (1980).
Connections
During the editing phase of the film Larisa Shepitko was helped by Elem Klimov who also was a student at VGIK at that time. In 1963 they married and their one child, Anton was born in 1973. Heat won the Symposium Grand Prix ex aequo at the Karlovy Vary IFF in 1964 and an award at the All-Union Film Festival in Leningrad.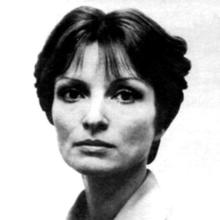 Born January 6, 1938
Died
July 2, 1979
(aged 41)
Nationality
Ethnicity: