Background
Career
His career began in the Conseil d'Etat (1919) and with an appointment as lecturer at the Ecole Libre des Sciences Politiques (1922-1932). In 1930 he negotiated an important agreement for coal with Germany. He soon displayed managerial abilities that led to rapid promotion, notably as administrator of Air France (1933) and of the SNCF, the French railroad system (1937).

After the German invasion and the French government's collapse in 1940, however, Mayer was dismissed from public office because of the Vichy régimc's anti-Jewish policy. He then joined the Resistance and escaped to Algeria, where he became a leading member of the Free French Committee for National Liberation (1943). He also became prominent in the Radical Socialist party, received various decorations, and was minister of public works and transport in the provisional government of 1944 headed by General Charles de Gaulle. In 1945-1946, he was high commissioner for German affairs.

Thereafter, Mayer served as a deputy for Constantine (Algeria) in the French National Assembly (1946-1956) and held ministerial posts in successive government coalitions. He was twice minister of finance and economic affairs (1947-1948, 1951-1952). From January to May 1953, Mayer headed the French government.

An advocate of the NATO (North Atlantic Treaty Organization) alliance, which inspired him to write Le pacte atlantique (1950), Mayer also promoted Anglo-French relations and, after resigning the premiership, went on to chair the European Coal and Steel Authority (1955-1957). He took a keen interest in Jewish affairs, was a member of the French Consistoire Central, and from 1946 served as vice-president of the Alliance Israélite Universelle.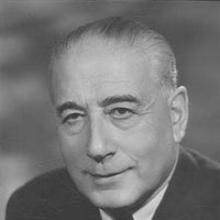 Born March 4, 1895
Died
December 13, 1972
(aged 77)
Nationality
Ethnicity:
January 8, 1953 - June 28, 1953

June 3, 1955 - January 13, 1958