Background
Education
Career
He worked as a producer in Jewish clubs and in summers was entertainment director in the borscht circuit (the Jewish hotels in the Catskills). His first attempts at play writing were failures, but collaboration with George S. Kaufman established his career.

The first work of the two wits was "Once in a Lifetime" (1930), a satire on Hollywood. Hart then turned to musicals, writing librettos and sketches, for example with Irving Berlin in "Face the Music" (1932) and with Cole Porter in "Jubilee" (1935). He then teamed up again with Kaufman for a series of hits, including "Merrily We Roll Along" (1934), which describes the career of a disillusioned playwright; the Pulitzer Prize-winning "You Can't Take It With You" (1936), which was also a successful film directed by Frank Capra; "I'd Rather Be Right" (1937), for which George M. Cohan came out of retirement to piay the central figure, based on President Franklin D. Roosevelt; "The Man Who Came to Dinner" (1939), whose main character was a takeoff on Alexander Woollcott (also made into a film); and "George Washington Slept Here" (1940), a satire of city people who try to restore a dilapidated country house.

Hart then wrote the book for the musical "Lady in the Dark" (1941), with music by Kurt Weill and lyrics by Ira Gershwin, which sought to psychoanalyze a woman editor. He wrote a number of other dramas including "Light Up the Sky" (1948), about a tryout for a play, and his last stage work, "The Climate of Eden" (1952), an adaptation of a novel whose central figures are a missionary and his daughter confronted by a deranged man in British Guiana. So many of his works are collaborations that it is difficult to assess his individual talent, but those he wrote on his own are characterized by their literate dialogue and character studies.

Hart had another career as director and producer, staging some of Broadway's greatest hits, including "My Fair Lady" (for which he was awarded a Tony in 1956) and Camelot. He was also a film writer; among his best-known work w'as "Gentleman's Agreement" (1947) exposing anti-Jewish discrimination and prejudice.
Major achievements
Connections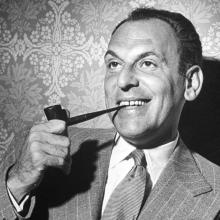 Born October 24, 1904
Died
December 20, 1961
(aged 57)
Nationality
Ethnicity:
Contributor  
Address
General Info
Background
Works

You Can't Take It With You, 1936. (with George S. Kaufman) I'd Rather Be Right, 1937.Fabulous Invalid, 1938. The American Way, 1939. The Man Who Came to Dinner, 1939.Lady in the Dark, 1941. Winged Victory, 1943. Christopher Blake, 1946.Light Up The Sky, 1948. The Climate of Eden, 1952. Director My Fair Lady.Director, producer, Camelot (mus.), 1960.

School and college years description
Go
up
Edit Profile