Nathalie Sarraute
Nathalie Sarraute, Russian author. Recipient Prix International de Litterature, 1964, Grand Prix National, 1982, Prix Cavour, 1984.
Background
Sarraute, Nathalie was born on July 18, 1900 in Ivanowo, Russia. Daughter of Ilya Tcherniak and Pauline Chatounowski.
Education
Student, Sorbonne, Ecole de Droit de Paris, Oxford University. Doctor honoris causa, Trinity University, Dublin, 1976. Doctor honoris causa, University Kent, England, 1980.

Doctor honoris causa, Oxford University, 1991.
Connections
Married Raymond Sarraute, 1925. 3 children.

mother: Pauline Chatounovski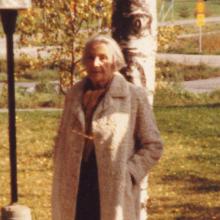 Born July 18, 1900
Died
October 19, 1999
(aged 99)
1976

Trinity University

1980

University Kent

1991

Oxford University
Contributor  
Other Names
Spelling variants for First Name
Spelling variants for Last/Family/Name
Middle Name
Album

Photo
Photo
Photo
Photo
Photo
Photo
Photo
Photo
Photo
Photo
Photo
Photo
Photo
Photo
Photo
Photo
Photo
Photo
Photo
Photo
Photo
Photo
Photo
Photo
Photo
Photo
Photo
Photo
Photo
Photo
Photo
Photo

Place
College/University

Sorbonne
Trinity University
University Kent
Oxford University

Awards
Membership description
Works

Author: Tropismes, 1939 (translated 1964). Portrait d'un inconnu, 1948, English translation Portrait of a Man Unknown, 1959. Martereau, 1953, English translation, 1959, L'Ere du soupcon, 1956, English translation The Age of Suspicion, 1964. Le Planetarium, 1959, English translation The Planetarium, 1962. Les Fruits d'or, 1963, English translation The Golden Fruits (Prix international de Literature 1964), 1965. Entre la vie et la mort, 1968, English translation Between Life and Death, 1969. Vous les endendez?, 1972, English translations Do You Hear Them?, 1973. "disent les imbeciles", 1976, English translation "fools say", 1977. L'usage de la parole, 1980, English translation The Use of Speech, 1983. Enfance, 1983, English translation Childhood, 1984, Paul Valéry et l'enfant d'éléphant, Flaubert le précurseur, 1986, Tu ne t'aimes pas, 1989, English translation You Don't Love Yourself, 1990, Ici, 1995, Ouvrez, 1997. Plays: Le Silence, Le Mensonge, 1967, English translation Silence and The Lie, 1969. Isma, 1970, Izzum, 1975, C'est beau, 1973, English translation It Is Beautiful, 1978. Elle est lá, 1978, English translation It is There, 1980. Collected Plays, 1981. Pour un oui ou pour un non, 1982. Collected works in Pleiade.
book: tropismes

Works description
mainPhoto

book: Tropismes (French Edition)

Works description
mainPhoto

book: Martereau (French Literature Series)
book: Martereau

Works description
mainPhoto

book: Martereau

Works description
mainPhoto

book: Martereau

Works description
mainPhoto

book: Martereau
book: Martereau
book: Martereau

Works description
mainPhoto

book: Martereau - Roman : Pour l'Étude du Français à l'Étranger; Notes, Appareil Pédagogique par des Spécialistes de l'Enseignement du Français (Texte Intégral) {Le Livre du Poche}
book: Entre La Vie Et La Mort (Collection Folio)
book: Entre la Vie et la Mort

Works description
mainPhoto

book: Ouvrez (French Edition)
book: Pour un oui ou pour un non (French Edition)

Works description
mainPhoto

book: Pour un oui ou pour un non

Works description
mainPhoto

book: Nathalie Sarraute du tropisme à la phrase (French Edition)

Works description
mainPhoto

book: Martereau, Roman

Works description
mainPhoto

book: Martereau.

Works description
mainPhoto

book: NATHALIE SARRAUTE Three Novels PORTRAIT OF A MAN UNKNOWN / MARTEREAU / THE GOLDEN FRUITS
book: Ici (French Edition)

Works description
mainPhoto

book: Tropismes

Works description
mainPhoto

book: Tropismes
book: Tropismes (French Edition) by Sarraute, Nathalie (1986) Paperback

Works description
mainPhoto

book: Ici (French Edition)

Works description
mainPhoto

book: Isma (Folio Theatre) (French Edition)
book: Tropismes
book: Tropismes and The Age of Suspicion

Works description
mainPhoto

book: Isma

Works description
mainPhoto

book: Isma ou ce qui s'appelle rien, suivi de Le Silence et Le Mensonge
Author: Tropismes, 1939 (translated 1964). Portrait d'un inconnu, 1948, English translation Portrait of a Man Unknown, 1959. Martereau, 1953, English translation, 1959, L'Ere du soupcon, 1956, English translation The Age of Suspicion, 1964.Le Planetarium, 1959, English translation The Planetarium, 1962. Les Fruits d'or, 1963, English translation The Golden Fruits (Prix international de Literature 1964), 1965. Entre la vie et la mort, 1968, English translation Between Life and Death, 1969.Vous les endendez?, 1972, English translations Do You Hear Them?, 1973. "disent les imbeciles", 1976, English translation "fools say", 1977. L'usage de la parole, 1980, English translation The Use of Speech, 1983.Enfance, 1983, English translation Childhood, 1984, Paul Valéry et l'enfant d'éléphant, Flaubert le précurseur, 1986, Tu ne t'aimes pas, 1989, English translation You Don't Love Yourself, 1990, Ici, 1995, Ouvrez, 1997. Plays: Le Silence, Le Mensonge, 1967, English translation Silence and The Lie, 1969. Isma, 1970, Izzum, 1975, C'est beau, 1973, English translation It Is Beautiful, 1978.Elle est lá, 1978, English translation It is There, 1980. Collected Plays, 1981. Pour un oui ou pour un non, 1982.Collected works in Pleiade.

Relatives
Religious beliefs
Views and World outlook
Quotations
Party affiliation description
Favorite Sports & Clubs
Favorite Athletes
Ethnicity details
College/University Description
Favorite Political Figures
Favorite Philosophers & Thinkers
Favorite Music & Bands
Favorite writers
Favorite Artists
Other interests
Career Description
Personality
Quotes from others about the person
Physical Characteristics
Go
up
Edit Profile