Joseph Pulitzer
Joseph Pulitzer was a Hungarian-American newspaper publisher of the St. Louis Post Dispatch and the New York World. Pulitzer introduced the techniques of yellow journalism to the newspapers he acquired in the 1880s. He became a leading national figure in the Democratic Party and was elected congressman from New York. He crusaded against big business and corruption, and helped keep the Statue of Liberty in New York.
Background
He was born as Pulitzer József (name order by Hungarian custom) in Makó, about 200 km south-east of Budapest in Hungary, the son of Elize (Berger) and Fülöp Pulitzer. The Pulitzers were among several Jewish families living in the area, and had established a reputation as merchants and shopkeepers. Joseph's father was a respected businessman, regarded as the second of the "foremost merchants" of Makó. Their ancestors emigrated from Moravia to Hungary at the end of the 18th century.
Education
In 1853, Fülöp Pulitzer was rich enough to retire. He moved his family to Pest, where he had the children educated by private tutors, and taught French and German. In 1858, after Fülöp's death, his business went bankrupt, and the family became impoverished. Joseph attempted to enlist in various European armies for work before emigrating to the United States.

Pulitzer arrived in Boston in 1864 at the age of 17, his passage having been paid by Massachusetts military recruiters who were seeking soldiers for the American Civil War. Learning that the recruiters were pocketing the lion's share of his enlistment bounty, Pulitzer snuck away from the Deer Island recruiting station and made his way to New York. He was paid $200 to enroll in the Lincoln Cavalry on September 30. He was a part of Sheridan's troopers, in the First New York Lincoln Cavalry in Company L., where he served for eight months. Although he spoke three languages: German, Hungarian, and French, Pulitzer learned little English until after the war because his regiment was composed mostly of German immigrants.
Career
After the war, Pulitzer returned to New York City, where he stayed briefly. He moved to New Bedford, Massachusetts for the whaling industry, but found it was too boring for him. He returned to New York with little money. Flat broke, he slept in wagons on cobblestone side streets. He decided to travel by "side-door Pullman" (a euphemism for a freight boxcar) to St. Louis, Missouri. He sold his one possession, a white handkerchief, for 75 cents.

When Pulitzer arrived at the city, he recalled, "The lights of St. Louis looked like a promised land to me". In the city, his German was as useful as it was in Munich because of the large ethnic German population, due to strong immigration since the revolutions of 1848. In the Westliche Post, he saw an ad for a mule hostler at Benton Barracks. The next day he walked four miles and got the job, but held it for only two days. He quit due to the poor food and the whims of the mules, stating "The man who has not cared for sixteen mules does not know what work and troubles are." Pulitzer had difficulty holding jobs; he was too scrawny for heavy labor and likely too proud and temperamental to take orders.

He worked as a waiter at Tony Faust, a famous restaurant on Fifth Street. It was frequented by members of the St. Louis Philosophical Society, including Thomas Davidson, the German Henry C. Brockmeyer, a nephew of Otto Von Bismarck; and William Torrey Harris. Pulitzer studied Brockmeyer, who was famous for translating Hegel, and he "would hang on Brockmeyer's thunderous words, even as he served them pretzels and beer". He was fired after a tray slipped from his hand and a patron was soaked in beer.

Pulitizer spent his free time at the St. Louis Mercantile Library on the corner of Fifth and Locust, studying English and reading voraciously. Soon after, he and several dozen men each paid a fast-talking promoter five dollars. He promised them good-paying jobs on a Louisiana sugar plantation. They boarded a steamboat, which took them downriver 30 miles south of the city, where the crew forced them off. When the boat churned away, the men concluded the promised plantation jobs were a ruse. They walked back to the city, where Pulitzer wrote an account of the fraud and was pleased when it was accepted by the Westliche Post, evidently his first published news story.

In the building where the Westliche Post was co-edited by Dr. Emil Pretorius and Carl Schurz, the attorneys William Patrick and Charles Phillip Johnson and surgeon Joseph Nash McDowell also worked. Patrick and Johnson referred to Pulitzer as "Shakespeare" because of his extraordinary profile. They helped him secure a job with the Atlantic and Pacific Railroad. His work was to record the railroad land deeds in the twelve counties in southwest Missouri where the railroad planned to build a line. When he was done, the lawyers gave him desk space and allowed him to study law in their library to prepare for the bar.

Pulitzer displayed a flair for reporting. He would work 16 hours a day—from 10 AM to 2 AM. He was nicknamed "Joey the German" or "Joey the Jew". He joined the Philosophical Society and frequented a German bookstore where many intellectuals hung out. Among his new group of friends were Joseph Keppler and Thomas Davidson.

He joined the Republican Party. On December 14, 1869, Pulitzer attended the Republican meeting at the St. Louis Turnhalle on Tenth Street, where party leaders needed a candidate to fill a vacancy in the state legislature. They settled on Pulitzer, nominating him unanimously, forgetting he was only 22, three years under the required age. However, his chief Democratic opponent was possibly ineligible because he had served in the Confederate army. Pulitzer had energy. He organized street meetings, called personally on the voters, and exhibited such sincerity along with his oddities that he had pumped a half-amused excitement into a campaign that was normally lethargic. He won 209–147.

His age was not made an issue and he was seated as a state representative in Jefferson City at the session beginning January 5, 1870. He had lived there for only two years. He also moved up one notch in the administration at the Westliche Post. He eventually became its managing editor, and obtained a proprietary interest.

In 1872, Pulitzer was a delegate to the Cincinnati convention of the Liberal Republican Party which nominated Horace Greeley for the presidency. However, the attempt at electing Greeley as president failed, the party collapsed, and Pulitzer, disillusioned with the corruption in the Republican Party, switched to the Democratic Party. He served as a delegate to the Missouri Constitutional Convention in 1874, representing St. Louis; and in 1876 gave nearly 70 speeches in favor of Presidential candidate Samuel J. Tilden. In 1880, he was a delegate to the Democratic national convention and a member of its platform committee from Missouri.

In 1883, Pulitzer, by now a wealthy man, purchased the New York World from Jay Gould for $346,000. The newspaper had been losing $40,000 a year. To raise circulation, Pulitzer emphasized sensational stories: human-interest, crime, disasters, and scandal.

In 1884, he was elected to the U.S. House of Representatives from New York as a Democrat, and served from March 4, 1885, until April 10, 1886. He resigned halfway through his term due to the pressure of journalistic duties.

In 1887, he recruited the famous investigative journalist Nellie Bly. In 1895 the World introduced the immensely popular The Yellow Kid comic by Richard F. Outcault, one of the first strips to be featured in the newly launched Sunday color supplement shortly after. Under Pulitzer's leadership, circulation grew from 15,000 to 600,000, making it the largest newspaper in the country.

Charles A. Dana, the editor of the rival New York Sun, attacked Pulitzer in print, often using anti-Semitic terms like "Judas Pulitzer". In 1895, William Randolph Hearst purchased the rival New York Journal from Pulitzer's brother, Albert. The two embarked on a circulation war. This competition with Hearst, particularly the coverage before and during the Spanish–American War, linked Pulitzer's name with yellow journalism.

For six months during 1908, C. Louis Leipoldt, a South African doctor, writer, and poet, was Pulitzer's personal physician aboard his yacht Liberty. While traveling to his winter home at the Jekyll Island Club on Jekyll Island, Georgia in 1911, Pulitzer had his yacht stop in Charleston Harbor, South Carolina. On October 29, 1911, Pulitzer listened to his German secretary read aloud about King Louis XI of France. As the secretary neared the end, Pulitzer said in German: "Leise, ganz leise" (English: "Softly, quite softly"), and died. His body was returned to New York for services, and he was interred in the Woodlawn Cemetery in The Bronx.
Personality
Physical Characteristics: Pulitzer's health problems (blindness, depression, and acute noise sensitivity) caused a rapid deterioration, and he had to withdraw from the daily management of the newspaper. But, he continued to manage the paper from his New York mansion, his winter retreat at the Jekyll Island Club on Jekyll Island, Georgia, and his summer vacation retreat in Bar Harbor, Maine.
Connections
In 1878 at the age of 31, Pulitzer married Katherine "Kate" Davis (1853-1927), an intelligent, compassionate woman of high social standing from a wealthy Mississippi planter family, who were slaveholders before the American Civil War. She was five years younger than Pulitzer and a distant relative of Jefferson Davis, former president of the Confederate States of America.

Of seven children, five lived to adulthood: Ralph, Joseph Jr., Constance Helen (1888-1938), who married William Gray Elmslie, D.D. Edith (1886-1975), who married William Scoville Moore, and Herbert, eventually his brother Ralph's partner at the Post. On December 31, 1897, their older daughter, Lucille Irma Pulitzer, died at the age of 17 from typhoid fever. Their other daughter, Katherine Ethel Pulitzer, died of pneumonia in May 1884.

Pulitzer's grandson, Herbert Pulitzer, Jr. was married to the American fashion designer and socialite Lilly Pulitzer.

Following a fire at his former residence, Pulitzer commissioned Stanford White to design a limestone-clad Venetian palazzo at 11 East 73rd Street on the Upper East Side; it was completed in 1903. Pulitzer's thoughtful seated portrait by John Singer Sargent is at the Columbia School of Journalism that he founded.

The family continued to be involved in the operation of the St. Louis paper for several generations until April 1995, when Joseph Pulitzer IV resigned from the paper in a management dispute.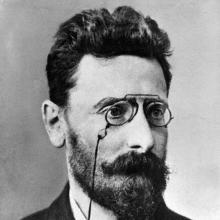 Born April 10, 1847
Died
October 29, 1911
(aged 64)
Nationality
Ethnicity: