Background
Education
Career
He began writing while a student at Pacific Union College where he majored in English and minored in history, and later became the author of many children's books.

The 1931 novel God Sends Sunday, the 1936 novel Black Thunder, and the 1966 anthology Great Slave Narratives. He also wrote the 1946 play St. Louis Woman with Countee Cullen.

God Sends Sunday, (New York, Harcourt, Brace and Co., 1931)

Popo and Fifina, Children of Haiti, by Arna Bontemps and Langston Hughes, (New York: Macmillan, 1932)

You Can't Pet a Possum, (New York: W. Morrow, 1934)

Black Thunder: Gabriel's Revolt: Virginia 1800, (New York: Macmillan, 1936)

Sad-faced Boy, (Boston: Houghton Mifflin, 1937)

Drums at Dusk: a Novel, (New York: Macmillan, 1939)

Father of the Blues: an Autobiography, by W.C. Handy: edited by Arna Bontemps, (New York: Macmillan, 1957)

Golden Slippers: an Anthology of Negro Poetry for Young Readers, compiled by Arna Bontemps, (New York: Harper & Row, 1941)

The Fast Sooner Hound, by Arna Bontemps and Jack Conroy, (Boston: Houghton Mifflin, 1942)

They Seek a City, (Garden City, New York: Doubleday, Doran and Co., 1945)

We Have Tomorrow, (Boston: Houghton Mifflin, 1945)

Slappy Hooper, the Wonderful Sign Painter, by Arna Bontemps and Jack Conroy, (Boston: Houghton Mifflin, 1946)

Story of the Negro, (New York: Knopf, 1948)

The Poetry of the Negro, 1746-1949: an anthology, edited by Langston Hughes and Arna Bontemps, (Garden City, NY: Doubleday, 1949)

George Washington Carver, (Evanston, IL: Row, Peterson, 1950)

Chariot in the Sky: a Story of the Jubilee Singers, (Philadelphia, (London: P. Breman, 1963)

Famous Negro Athletes, (New York: Dodd, Mead, 1964)

Great Slave Narratives, (Boston: Beacon Press, 1969)

Hold Fast to Dreams: Poems Old and New Selected by Arna Bontemps, (Chicago: Follett, 1969)

Mr. Kelso's Lion, (Philadelphia: Lippincott, 1970)

Free at Last: the Life of Frederick Douglass, (New York: Dodd, Mead, 1971)

The Harlem Renaissance Remembered: Essays, Edited, With a Memoir, (New York: Dodd, Mead, 1972)

Young Booker: Booker T. Washington's Early Days, (New York, Dodd, Mead, 1972)

The Old South: "A Summer Tragedy" and Other Stories of the Thirties, (New York: Dodd, Mead, 1973)
Religion
Views
Quotations: - Yet would we die as some have done, beating a way for the rising sun.

- Let us keep the dance of rain our fathers kept and tread our dreams beneath the jungle sky.

- Is there something we have forgotten? Some precious thing we have lost, wandering in strange lands?

- Tweet

Share

0



How dare anyone, parent, schoolteacher, or merely literary critic, tell me not to act colored.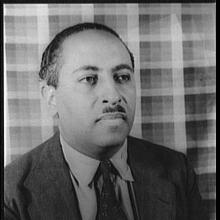 Contributor  
Place
Nationalities
Awards
Address
Family description
General Info
Membership description
Works

Editor: Golden Slippers, An Anthology, 1941. Father of the Blues (by W. C. Handy), 1941. Author numerous books latest publications: Black Thunder, 1936, reissued 1968.Story of the Negro, 1948. The Poetry of the Negro (anthology, co-editor with L. Hughes), 1949. Chariot in The Sky, 1951.Story of George Washington Carver, 1954. Lonesome Boy, 1955

Relatives
College/University Description
Career Description
Personality
Quotes from others about the person
Physical Characteristics
Go
up
Edit Profile