Career
His books include three novels and a book of poetry. His novels have been published internationally and won or been shortlisted for a number of major Australian literary awards, including The Age Fiction Book of the Year, the Miles Franklin Literary Award, the Commonwealth Writers PrizeCourier-Mail Book of the Year Award, the Aurealis Best Novel Award (Science Fiction category), the Adelaide Festival's National Fiction Award, the Fellowship of the Australian Writers Literature Award, the Australian National Book Council's 'Banjo' Award and the Kathleen Mitchell Literary Award. He was also one of The Sydney Morning Herald's Best Young Australian Novelists in 1997 and 2000, and on 16 June 2008 The Resurrectionist was included as one of Richard & JudyBlur, a collection of writing by young Australian writers, and The Penguin Book of the Ocean.

Bradley's novels explore both past and future. The first, Wrack explores questions about the nature of history and the imaginary

origins of Australia, drawing together the story of the semi-mythical "Mahogany ShipThe Deep Field, is set in a dystopic near-future and tells the story of a love affair between a photographer and a blind palaeontologist. The third, The Resurrectionist, based loosely on the story of the Burke and Hare murders

Bradley also writes as a critic, with reviews and articles appearing regularly in Australian newspapers and magazines, and blogs at City of Tongues and was named Australian Critic of the Year.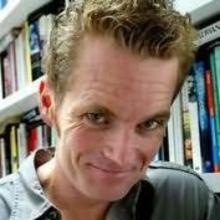 Born
May 15, 1967
(age 50)
Nationality
Ethnicity:
Contributor  
Other Names
Spelling variants for First Name
Spelling variants for Last/Family/Name
Middle Name
College/University

University Adelaide
University Adelaide
University South Australia
Australian Film TV and Radio School

Family description
Membership

Australian Society Authors.

Works

Novel: Wrack (1997)

Link
Works description
mainPhoto

Novel: The Deep Field (1999)

Link
Works description
mainPhoto

Novel: The Resurrectionist (2006)

Link
Works description
mainPhoto

poetry: Paper Nautilus (1994)

Link
Works description
mainPhoto

General Info
Background
Relatives

Denise
Michael
Mardi McConnochie

Career Description
Go
up
Edit Profile