Edwidge Danticat
Since the publication of her first novel, Breath, Eyes, Memory, in 1994, Edwidge Danticat has garnered much recognition and is now known as one of today's most acclaimed young writers. A year later, at age 26, she published Krik? Krakl and became the youngest writer ever nominated for the prestigious U.S. National Book Award. Most of her writing takes place in her native Haiti and portrays many aspects of both Haitian life and the Haitian Diaspor
Background
Edwidge Danticat, the oldest of four siblings and the only girl, was born in Port-au-Prince, the capital of Haiti, on January 19, 1969, to André and Rose Danticat. André Danticat, a cab driver, emigrated to New York City in 1971 in search of a better life for his family. Rose, a textile worker, decided to join him two years later, leaving four-year-old Danticat under the care of her aunt and uncle, a Baptist minister.
Education
Creole was the language spoken at home, but she was educated in French, the official language of Port-au-Prince's public schools. In 1981, at age 12, she rejoined her family in Brooklyn. She attended public schools in the city and remembers the hardships she endured as an immigrant, being taunted by class-mates with, "Frenchy, go back to the banana boat" (Pierre-Pierre 1995, Cl). She also described how Haitian students protected themselves by disavowing their ethnicity: "They would say anything but Haitian" (Cl).

Danticat, who excelled in English and French, completed her undergraduate education at Barnard College in 1990 and went on to receive an M.F. A. from Brown University in 1993. While at Brown, she wrote two plays The Creation of Adam, produced in Providence, Rhode Island, at the Rites and Reasons Theater in 1992; and Dreams Like Me, produced at the university's New Play Festival in 1993.
Career
An article she wrote and published while in high school about her emigration to the United States, which later developed into her master's thesis, eventually became her first novel Breath, Eyes, Memory (1994). The novel was selected in 1998 by Oprah Winfrey's Book Club, making Danticat's book an instant bestseller. Among the awards she received after that publication were the 1994 Fiction Award from The Caribbean Writer and a GRANTA Award in 1996 for Best of American Novelists; a similar recognition was also given to her in 1999 by The New Yorker.

Following the publication of her very successful novel, Danticat compiled a collection of short stories that she had begun writing as an undergraduate about tor-tured victims of Haiti's repressive secret police. Danticat described the book's purpose in an interview with National Public Radio: "I wanted to raise the voice of a lot of the people that I knew growing up .. . mostly poor people who had extraordinary dreams but also very amazing obstacles" (Wertheimer 2002). The resulting Krik? Krak! garnered her a National Book Award and the Pushcart Prize for short fiction in 1995.

In 1998 Danticat published a historical novel, The Farming of Bones, about the 1937 massacre of Haitian farm workers by the Dominican Republic military. Literary critic Barbara Mujica hailed it as "a gripping novel that exposes an aspect of Dominican-Haitian history rarely represented in Latin American fiction". The book received the American Book Award in 1999 and both the International Flaiano Prize for Literature and the Super Flaiano Prize.
Major achievements
In addition to her novels and short stories, Danticat has edited a compilation of stories, poems, and essays by Haitian writers living in the United States and Europe: The Butterfly's Way: From the Haitian Dyaspora in the United States (2001). In her relatively short literary career, she has received acclaim and many awards for her fiction from magazines such as Essence and Seventeen.

In the early days of her career it was obvious to many that she would succeed in 1998 Harper's Bazaar named her one of the 20 people in their twenties who would make a difference and Jane magazine named her one of the "15 Gutsiest Women of the Year." Her work has been translated into Korean, Italian, German, French, Spanish, and Swedish. A resident of New York City, she is a distinguished visiting faculty member at New York University's creative writing program.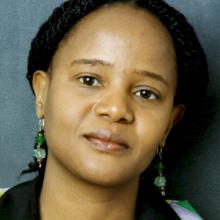 Born
January 19, 1969
(age 48)
Nationality