Pablo Neruda (Neftalí Ricardo Reyes Basoalto)
Neruda became known as a poet while still a teenager. He wrote in a variety of styles including surrealist poems, historical epics, overtly political manifestos, a prose autobiography, and erotically-charged love poems such as the ones in his 1924 collection Twenty Love Poems and a Song of Despair. He often wrote in green ink colour as it was his personal symbol for desire and hope with his poetry.
Politics
He was the leftest comunist and supported Stalin.
Party affiliation: Communist Party
Personality
Connections
first wife: Maryka Antonieta Hagenaar Vogelzang

-

Dutch

third wife: Matilde Urrutia

-

Chilean

Friends in Madrid: Rafael Alberti (Merello)

Friends in Madrid: Federico García Lorca

Friends in Madrid: César Vallejo

acquaintance: David Alfaro Siqueiros

like-minded person: Salvador Allende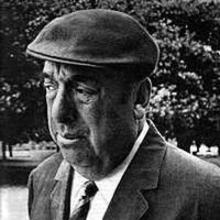 1921

1927 - 1929

1929 - 1930

1930

1941 - 1944

1945

1948 - 1953

1950 - 1973

1970

1971 - 1972
Contributor  
Awards

Nobel Prize for Literature
Nobel Prize for Literature 1971

Favorite Philosophers & Thinkers
Go
up
Edit Profile