Ernst Poeppel
Ernst Poeppel, German medical psychologist. Recipient Levinson award American Poetry Association, 1983, Purkinje medal Czechoslovak Medical Society, 1988. With reserves German Navy, 1961-1962. Member German Society for Medical Psychology. (president since 1991), Leopoldina, European Academy Arts and Sciences.
Background
Education
Career
Researcher Max-Planck-Society, Andechs, Federal Republic Germany, 1965-1970. Research associate department psychology Massachusetts Institute of Technology, Cambridge, Massachusetts, 1971-1973. Staff scientist Neurosci.

Research Program, Boston, 1972-1973. Scientist Max-Planck-Society, Munich, 1974-1976. Professor medical psychology Medical Faculty, since 1976.

Chairman Institute Medical Psychology, since 1977. Board directors Research Center Juelich, 1992-1997. Chairman Human Studies Center, University Munich, since 1997.
Works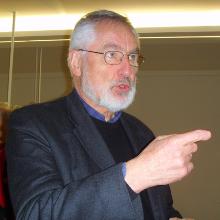 1968

1974

1976

1965 - 1970

1971 - 1973

1972 - 1973

1974 - 1976

1976

1977