William Stuart Reyburn
William Stuart Reyburn was a Republican member of the U.S. House of Representatives from Pennsylvania.
Background
Reyburn was born in Philadelphia, Pennsylvania, to John E. Reyburn and Margretta (Crozier). He married Georgie Fontaine Maury, of Washington, June 10, 1911.

He died in New Haven, Conn., on July 25, 1946; interment in Laurel Hill Cemetery, Philadelphia, Pa.
Education
He graduated from Yale University in 1904, where he was a member of St. Anthony Hall, and from the law department of Georgetown University, Washington, D.C.
Career
He served in the Pennsylvania House of Representatives from 1909 until 1911.

He was elected as a Republican to the Sixty-second Congress to fill the vacancy caused by the death of Joel Cook and served from May 23, 1911, to March 3, 1913. He declined to be a candidate for renomination in 1913. He resumed the practice of his profession in Washington, D.C., and subsequently retired from active business pursuits. He resided in Aiken, Aiken County, S.C., and later moved to his estate "Black Hill," Old Lyme, Conn.
Major achievements
He was admitted to the bar in 1908 and commenced practice in Washington, District of Columbia
He was a member of President William Howard Taft's party which visited the Philippines, Japan, and China in 1905.
He served in the State house of representatives from 1909 until May 25, 1911, when he resigned.
Membership
Member Pennsylvania House of Representatives, 1909, 1911. Member Delta Psi; Mason. Clubs: Metropolitan, Chevy Chase, Century (Washington), Racquet, Philadelphia Country, Union League (Philadelphia).
a Republican member of the United States House of Representatives from Pennsylvania. , USA
1909

President William Howard Taft's party , USA
1905

the Pennsylvania House of Representatives , USA
1909 - 1911
Connections
Married Georgie Fontaine Maury, of Washington, June 10, 1911.

father: John Edgar Reyburn

mother: Margretta (Crozier)

Wife: Georgie Fontaine Maury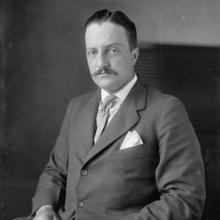 Born December 17, 1882
Nationality
1904

Yale University of Washington
Contributor  
First Name
Middle Name
Religions
School

the Hill School of Pottstown

College/University

Yale University of Washington
Georgetown University of Washington

Major Achievements

He was admitted to the bar in 1908 and commenced practice in Washington, District of Columbia
He was a member of President William Howard Taft's party which visited the Philippines, Japan, and China in 1905.
He served in the State house of representatives from 1909 until May 25, 1911, when he resigned.

Address
Family description
Membership

a Republican member of the United States House of Representatives from Pennsylvania.
President William Howard Taft's party
the Pennsylvania House of Representatives

Membership description
Relatives

John Edgar Reyburn
Margretta (Crozier)
Georgie Fontaine Maury

Party affiliation
College/University Description
Personality
Quotes from others about the person
Physical Characteristics
Go
up
Edit Profile