Background
Mr. Hu Suh was born in Shanghai on December 17, 1891. His father was a scholar of high attainment and was known for his geographical researches in northern Manchuria, where he travelled extensively. His father died when Dr. Hu was only a little over three years old, and he was brought up by his mother of whom he often told his friends that, though she could not read a single line he wrote it was to her alone that he owes everything.

Dr. Hu lived with his mother at their home in Chih-ki Hsien, Southern Anhui until 1904, when he came to Shanghai.
Education
Mr. Hu began his study of Chinese when he was scarcely three years old. During his six years stay in Shanghai he studied at the Mei-chi School, the Ching Chung School and the Chinese National Institute, founded by revolutionary students who in 1907 left Japan in a body as a protest against Japanese policies. Financial difficulty compelled him to support himself by teaching and by editing a revolutionary paper issued every ten days.

In 1910 Mr. Hu passed the government examination for Indemnity Scholarships and was sent to America, where he first entered Cornell University as a freshman in the College of Agriculture. Dr. Hu soon realized that he was not fitted for agricultural work and that China needed literature and philosophy just as badly as scientific farming.

So after studying a year and a half in the College of Agriculture, he was transferred to the College of Arts and Science, where he devoted himself to English literature, political science and philosophy. He was elected to the Phi Beta Kappa Society in 1918 and was awarded the Hiram Corson Prize for his essay on Robert Browning in the following year. After his graduation in 1914, he continued his advanced studies in philosophy and was given a graduate scholarship at the Sage School of Philosophy in Cornell University.

In 1915 Dr. Hu went to Columbia University, spent two years there and wrote his doctorate dissertation on "The Development of Logical Methods in Ancient China." It was during these two years that he gradually developed his ideas of a radical reform in Chinese literature.

These ideas were afterwards formulated into an article entitled "Suggestions for the Reform of Chinese Literature," which was simultaneously published in La Jeunesse and the Chinese Students Quarterly (January 1917). This article formed the first mainfeisto of the "literary revolution" and its historical place was only superceded by another article of his entitled "A Constructive Revolution in Chinese Literature" (La Jeunesse;' April 1918), which embodied the results of maturer reflection and fruitful experimentation.

Dr. Hu was the first Chinese poet to devote himself to writing poetry exclusively in the spoken language. He published over a hundred poems in the vulgate which he calls "experimental poetry." He began this poetic experiment in 1916. Since then there had grown up a school of "Vulgate Poets" whose contributions were appearing in a number of periodicals.
Career
Dr. Hu was Professor of Philosophy at the Government University and in 1922 Mr. Hu became Dean of the Department of English Literature. "Philosophy", as he was fond of saying, " It is my life work, and literature is my hobby."

In 1918 Mr. Hu published a course of lectures on the Philosophy of the Mo School. In 1919 he published another book entitled Outline of Chinese Philosophy, Volume I and in 1920 another work, Ancient History of China. In January 1922, Dr. Hu organized and edited a weekly in Peking called the Endeavor. He spent 1923 at Hangchow to recuperate his health.

In 1924 Mr. Hu returned to Peking and again joined the Government University.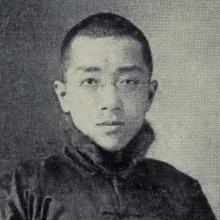 Born December 17, 1891
Nationality
Ethnicity: