Fuchuen Kenneth Sah (Sa Fu-chun)
Background
Education
Mr. F. K. Sah studied at St. John's College, Shanghai from 1898 to 1903. Then Mr. Sah went to America in 1903 as attache to the Chinese Commission to the Louisiana Purchase Exposition held at St. Louis, Mo. In 1906 he entered Purdue University from which he graduated in 1910 with the degree of B. S. in Engineering.
Career
In the fall of 1910 Mr. Sah returned to China and joined the Kuangtung Yueh-Han Railway at Canton (Guangzhou) as student engineer. In the Spring of 1912 he was promoted to the assistant engineer in charge of one Construction Section. In the summer of 1913 he was transferred to the I-Kwei section of the Szechuan-Hankow Railway where he was engaged principally in the survey of the Upper Yangtze gorges.

In the Spring of 1917 Mr. Sah was transferred to the Hankow-Ichang section of the same railway to complete the construction work left over by German engineers. Upon the completion of the construction work in 1918 Mr. Sah was engaged by the Kuo-Pi Railway Co of Yunnan to take charge of location and construction of a new branch line. He held that position until 1919 when he went to Peking to join the Ministry of Communications.

In the Spring of 1922 Mr. Sah was appointed assistant chief of the Land Development Department of the Peking-Hankow Railway at Hankow and later was transferred to the Shantung Rehabilitation Commission and appointed a member of the Committee for the valuation of the Shantung Railway. After completing the valuation work he was appointed Chief Engineer of the Kiao-Tsi Railway which position he held until the Summer of 1924 when he was recalled to Peking by the Ministry of Communications.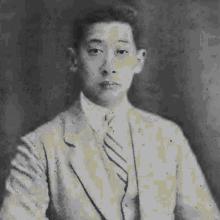 Born 1886
Nationality
Ethnicity: