Background
Career
2d, May Palmer, December, 1901. Admitted to bar, 1858. Member of New York Assembly, 1861-1862.

Secretary of state of New York, 1863. Appointed and confirmed United States minister to Japan, but declined. Defeated for lieutenant governor New York on Liberal Republican ticket, 1872.

Attorney for New York & Harlem R.R., 1866. For New York City&Hassaram Rijhumal R.R., 1869, general counsel, 1875, 2d vice president same, 1882, president same, 1885-1898. Also president, until 1898, West Shore R.R. From 1898 Chairman, Board Of Directors New York Central R.R. Director Western Union Telegraph Company, West Shore R.R., C.&N.W. Railway Company, C.,St.P.,M.&O. Railway Company, C.,C.,C.&St.Louis Railway Company, Canada Southern Railway Company, and numerous railway, banking and other corporations Regent U. State of New York, 1877-1904.

Declined elections as United States senator, 1885. Declined appointment as Secretary of State in cabinet of President Benjamin Harrison. Received 99 votes for presidential nomination, Republican National Convention, 1888.

Delegate-at-large Republican National convs., 1888, 92, 96, 1900, 04, and to all succeeding convs., including 1924 (placed Benjamin Harrison in nomination for the Presidency, 1888, and Governor Morton, 1896). United States senator, 1899-1905, 1905-1911. Orator at unveiling of Statue of Liberty in New York Harbor.

At centennial celebration of inauguration of George Washington. At opening of Chicago Exposition, 1893. Home: New York, New York.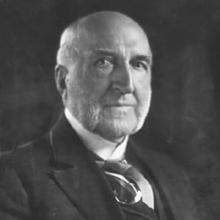 Born April 23, 1834
Nationality
Contributor  
Other Names
Spelling variants for First Name
Spelling variants for Last/Family/Name
Middle Name
Nationalities
Relatives

Martha (Mitchell) Depew
Elise Hegeman
Isaac Depew

Religious beliefs
Views and World outlook
Quotations
Party affiliation description
Favorite Sports & Clubs
Favorite Athletes
Ethnicity details
College/University Description
Favorite Political Figures
Favorite Philosophers & Thinkers
Favorite Music & Bands
Favorite writers
Favorite Artists
Other interests
Personality
Quotes from others about the person
Physical Characteristics
Go
up
Edit Profile