Boris Tadic (Boris Tadić)
Background
Career
Participated in opposition activities for which he was imprisoned. He has been a member of Democratic Party since 1990. So far has performed the following functions in the party: Secretary of the Main Board of Democratic Party and vice-chairman of Executive Committee of Democratic Party. He was a Member of Parliament at the National Assembly of Republic of Serbia and a member of its Council for science and technology. At the Assembly of Democratic Party on 27 February 2000 he was elected vice-chairman of Democratic Party.

He was the first director of Centre for Development of Democracy and Political Skills. Since 2003 he has been a lecturer in politics and advertising at Faculty of Dramatic Arts in Belgrade.

In the first democratic government in 2000 he was Minister of Telecommunications. Since 2001 he was Member of Federal Parliament for Democratic Party in the Citizens' Council and vice-president of the Parliament. During that period he was also Chairman of Security Control Committee. During the first Assembly of the Parliament of State Union of Serbia and Montenegro he was the Head of DOS Parliamentary Group.

From March 17, 2003 to April, 2004 he was Minister of Defense of Serbia and Montenegro. From February to June 2004 he was Head of DS Parliamentary Group at the national Assembly of Republic of Serbia.

On February 22, 2004 he was elected President of the Party at the11th Assembly of DS, as well as the 12th Assembly of DS held on February 18, 2006.
Politics
The Democratic Party of Serbia supports European integration of Serbia
Party affiliation: Democratic Party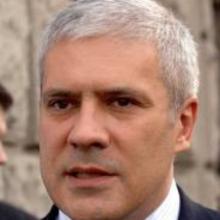 Born
January 15, 1958
(age 59)
Nationality
Ethnicity:
2000

2000

2000

2003

1990

1996 - 2004

March 17, 2003 - April 16, 2004

2004

July 11, 2004 - April 5, 2012