Sackville Hamilton Carden
Background
Career
Carden entered the navy in 1870, and took part in the campaigns in Egypt and the Sudan in 1882-1884 as well as in the Benin expedition in 1897. He was promoted to the grade of captain in 1899 and to rear admiral in 1908. Carden commanded the battleship London of the Atlantic Fleet in 1910; thereafter came duty at the Admiralty and in August 1912, the appointment of admiral superintendant of the Malta dockyard, a post usually regarded as precursor to retirement. Admiral John (Jacky) Fisher bluntly declared that Carden had been sent to Malta "to shelve him."

Events in the summer of 1914, however, radically altered these plans. The escape of the German cruisers Goeben and Breslau into Turkish waters was laid to rest at the feet of Admiral Milne, who, although officially held to have been without blame by a Court of Inquiry, was deprived of further command. Vice Admiral Carden was chosen to command the British battle squadron in the Mediterranean on September 20, 1914; overall naval command in the region was then assumed by the French.

When war broke out between Great Britain and Turkey on November 5,1914, Carden at once carried out a preliminary bombardment of the outer forts at the Dardanelles with British and French naval units. In January 1915, the first lord of the Admiralty, Winston Churchill, asked Carden whether the Straits could be forced solely by naval forces. The admiral replied that the Dardanelles could not be "rushed," but agreed that the stone forts could be reduced by extended operations.

Despite strenuous objections by Admiral Fisher and with the concurrence of the French and Russian governments, the War Council on January 28 adopted such a bold scheme. Carden took charge of a joint Anglo-French armada on February 19 in order to undertake the first systematic bombardment of the outer forts. The attacks, however, failed to reduce the outer forts, much less the intermediate defenses, and Carden broke down under the strain of failure. Nearly sixty years of age and without recent command of forces at sea, Carden by March 5 pessimistically evaluated his chances of success; eleven days later he relinquished command for reasons of poor health ("imminent danger of nervous breakdown") and returned to England.

Admiral De Robeck succeeded Carden at the Dardanelles.

Carden was attached from April to June 1915 to the Admiralty on special service and retired in October 1917 in the grade of full admiral. He died in Lymington on May 6, 1930, without having taken any part in the acrimonious postwar debates over the value of the Dardanelles operation. Churchill acidly remarked, "I am not aware of anything that he has done which is in any way remarkable." Arthur Marder found him "utterly lacking in vigour and determination."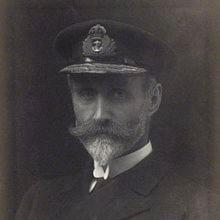 Born May 3, 1857
Died
May 6, 1930
(aged 73)
Nationality
Ethnicity: