Education
Career
Teacher KwaZulu-Natal, 1981—1983. Founder, member, director, Young Women's International Program Young Women Christian Association, Geneva, 1984—1987. Director TEAM, Cape Town, 1987—1989, World University Services, 1990—1992.

Started own business Phumelela Services, 1993—1994. Member Parliament, South Africa, 1994, chair, Public Service Portfolio Committee South Africa, 1994. Deputy minister, Department Trade and Industry Republic of South Africa, 1996—1999.

Founder, member Guguletu Community Development Corporation. Member national executive committee African National Congress, since 1997. Acting minister arts, culture, science and technical Republic of South Africa, 2004, minister minerals and energy, 1999—2005, deputy president, 2005—2008.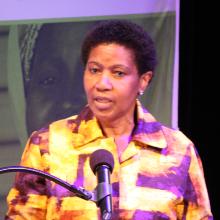 1980

2003

1981 - 1983

1987 - 1989

1990 - 1992

1993 - 1994

1994

1994

1996 - 1999

1997

1999 - 2005

2004