Career
President Palazzo del Quirnale, Italy. Magistrate Regional Administrator Tribunal, Italy. State attorney Attorney Generals Office, Italy, 1981, attorney Italy, 1984.

State councillor Isle of Man, 1986. Legal advisor Minister of Treasury, Italy, 1986—1990, Deputy Prime Minister, Italy, 1990—1991. Secretary general, deputy secretary Prime Minister Office, Italy, 1994.

Minister Public Administrator Regional Affairs Office, Italy, 1995. Chamber of deputies Freedom Pole Alliance, 1996. Chairman Parliamentary Commission on Intelligence Security Services, 1996.

City councilman Rome. Minister foreign affairs Italy, 2002—2004, since 2008. Vice president, justice commissioner European Commission, 2004—2008.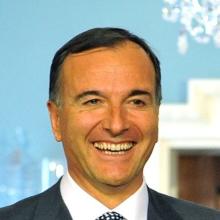 Born
March 14, 1957
(age 60)
Nationality
Ethnicity:
1981

1986 - 1990

1986

1990 - 1991

1994

1994

1995

1996

1996

2002 - 2004

2004 - 2008

2008