Background
Versace was born in the Italian city of Reggio Calabria, the youngest of four children in her family. Her father was a personal financier to the Italian aristocracy. An older sister, Tina, died at the age of ten from an improperly treated tetanus infection. In the mid-1970s, Donatella followed her older brother, Giovanni ("Gianni"), to pursue knitwear design in Florence, Italy.
Career
Donatella had planned to work for her brother in Public Relations, but she was more valuable to Gianni as a "muse and critic," according to Donatella during an interview with Vogue. Through her closeness to her brother's enterprises, Donatella plunged into the fashion world. A decade later, during the 1980s, Gianni launched a perfume dedicated to her, Blonde, and gave her her own diffusion label, Versus, which remains a well-known Versace inner line.

On 15 July 1997, outside the re-constructed Versace Mansion, also known as Casa Casuarina, in Miami, Florida, Gianni Versace was shot dead by Andrew Cunanan. A multi-continent search ensued for the suspected spree killer, but Cunanan avoided capture by committing suicide a few days after the death of Gianni Versace. In the aftermath of the highly publicized murder and manhunt, most of the Versace family (including Donatella) moved temporarily to a secluded private resort in the Caribbean, canceling the Versace Spring-Summer 1999 Collection as well as their indirect operations of the company. She tried to cope using drugs, pills, and cocaine.

A year and three days after Gianni's death in July 1998, Donatella Versace mounted her first couture show for the Versace Atelier at the Hôtel Ritz Paris. She built her runway over the hotel's swimming pool, as her brother had done every season, though this time using sheer glass. She now oversees the production of a dozen collections each year, though these days, Donatella is just as famous for her celebrity entourage and glittering parties. Regular guests include Sir Elton John, Liz Hurley, Rakeem Young, Catherine Zeta-Jones and Kate Moss. Even Prince Charles attends Donatella's parties for the famous and elite throughout Europe.

Branching into other fields, the company has created the grand, luxurious Palazzo Versace resort on the Gold Coast of Australia. Another growing symbol of the Versace style, the Burj al-Arab, in Dubai, United Arab Emirates (UAE), boasts a broad collection of Versace furniture and beddings in its expensive and lavish rooms.

Plans for the Palazzo Versace Dubai were announced in May 2005. Gianni Versace SpA, Sunland Group Ltd. and Emirates International Holdings have announced the Palazzo Versace resort to be constructed in the Arabian Bays on the Dubai Creek in Dubai, United Arab Emirates. The second Palazzo Versace will boast a number of suites and luxury villas, including an exclusive spa. Official plans are to begin construction in 2006 and have the hotel completed sometime in the year 2008. The interior of the hotel will be furnished with various Versace collections. As Creative Director, Donatella will carry out final plans and design strategies for the hotel and resort compound. This will be the second Palazzo Versace hotel ever to be built, and the second hotel in Dubai to boast a wide range of Versace collections. In October 2002, Gianni and Donatella's most famously designed Versace clothing was displayed in a special exhibit of the historical Victoria and Albert Museum of London to be honored for extraordinary fashion success and symbolism worldwide.

Donatella is the first to use notable celebrities to broadcast her clothing into the world on the catwalk and other public media such as advertisements, instead of using unknown models. Another member of the growing Versace success was Santo Versace S.p.A., Donatella's brother, who is also a fashion designer and the owner of Finanziaria Versace, an established Versace branch. Donatella soon proved to be the public relations giant within the Versace label and spread its name throughout Europe and most of the United States. Donatella chose to place some of her good friends, Lil' Kim, Jennifer Lopez, Madonna, Courtney Love, Christina Aguilera, Jonathan Rhys Meyers and Demi Moore, in high esteem in the Versace advertising sector, making them and other A-List celebrities such as Beyoncé and January Jones the persona and image of Versace. Her popularity grew when she designed the famous Versace Green Dress, also known as the "Jungle-Dress", which was worn by Jennifer Lopez at the Grammys in 2000.

Versace has also been recently known to use pop star Lady Gaga as her muse, and in October 2012, in a very publicized visit, invited the pop singer to her late brother's apartment in Milan

Donatella has been regularly impersonated by Maya Rudolph on the American sketch comedy/variety show Saturday Night Live, which airs on the NBC network. In reality, Rudolph and Versace are good friends. She is also perpetrated as a highly publicized user of the Power-Plate.

Versace was portrayed by actress Dania Deville in the 1998 film The Versace Murder.

Versace is much referred to in the Lauren Weisberger novel The Devil Wears Prada and is mentioned in the film with the same name.

In addition, Donatella was parodied in the first season of Ugly Betty with Gina Gershon playing the character of Fabia.

Versace was also mentioned in the song 'Gulabi Ankhein' from the 2012 Bollywood Movie Student of the Year.

Premiering October 5th, 2013 on Lifetime Network, will be a movie drama called "House of Versace". It is based on true events of the Versace family. Gina Gershon will be starring in the role of Donatella Versace.

Lady Gaga wrote the song "Donatella" from her 2013 album Artpop for Versace.

Migos wrote the song "Versace" on their 2013 mixtape 'Y.R.N.(Young Rich Niggas)' to which Donatella Versace walked out to during the versace finale in Milan 2013. She also appeared in the "Versace" music video.
Major achievements
In 2010, Donatella's charity work earned her a Do Something With Style Award nomination from the VH1 Do Something Awards. She was nominated for providing art supplies to children and creating a tote bag, whose proceeds will go to Starlight and the ONE Foundations. The awards show, produced by Vh1, is dedicated to honoring people who do good and is powered by Do Something, an organization that aims to empower, celebrate, and inspire young people.
Personality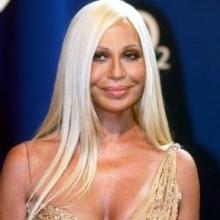 Born
May 2, 1955
(age 62)
Nationality
Ethnicity: