James Russell LOWELL
James Russell Lowell was an American Romantic poet,educator, critic, editor, and diplomat.
Background
Lowell, James Russell was born on February 22, 1819 in "Elmwood," Cambridge, Massachusetts, United States. Son of Review Charles and Harriet (Spence) Lowell.
Education
Lowell attended school under Sophia Dana, and, later studied at a school run by a particularly harsh disciplinarian, where one of his classmates was Richard Henry Dana, Jr.

In Harvard College James Russell Lowell was not a good student and often got into trouble. In his last year there, he wrote, "During Freshman year, I did nothing, during Sophomore year I did nothing, during Junior year I did nothing, and during Senior year I have thus far done nothing in the way of college studies".In his senior year, he became one of the editors of Harvardiana literary magazine, to which he contributed prose and poetry that he admitted was of low quality.
Works
Miscellaneous Poems, 1843
A Fable for Critics, 1848
Politics
James Russell Lowell was an abolitionist, advocated suffrage for blacks.
Connections
father: Charles Russell

mother: Harriett Brackett Spence Lowell

children: Blanche

Mabel

Rose

Walter

Wife: Maria

Wife: Frances

brother: Charles

Sister: Rebecca

Sister: Mary

brother: William

brother: Robert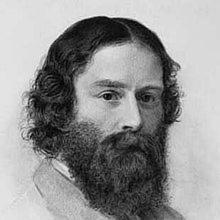 Born February 22, 1819
Died
August 12, 1891
(aged 72)
Nationality
September 1, 1834 - June 15, 1838

Harvard College

September 1, 1840

Harvard Law School

January 1, 1843

Editor, Magazine The Pioneer
United States

January 1, 1848

Corresponding editor, Newspaper National Anti-Slavery Standard
United States

January 1, 1855 - January 1, 1886

Professor of Modern Languages, Harvard
United States

January 1, 1857 - January 1, 1861

Editor, Magazine Atlantic Monthly
United States

January 1, 1864 - January 1, 1872

Literary magazine North American Review
United States

September 1, 1872

Oxford (England) University

September 1, 1874

Cambridge (England) University

January 1, 1876

Delegate, Republican National Convention
Cincinnati, Ohio, United States

January 1, 1877 - January 1, 1880

Minister to the Court of Spain


January 1, 1880 - January 1, 1885

United States minister to Court of St. James


January 1, 1886 - January 1, 1891

Professor Emeritus, Harvard
United States
Contributor  
College/University

Harvard College
Harvard Law School
Oxford (England) University
Cambridge (England) University

Career

Magazine The Pioneer
Newspaper National Anti-Slavery Standard
Harvard
Harvard
Magazine Atlantic Monthly
Literary magazine North American Review
Republican National Convention

Address
Background
Membership description
Works

book: A Year's Life, 1841

Link
Works description
mainPhoto

book: Miscellaneous Poems, 1843

Link
Works description
mainPhoto

book: The Biglow Papers, 1848

Link
Works description
mainPhoto

book: A Fable for Critics, 1848

Link
Works description
mainPhoto

book: Poems, 1848

Link
Works description
mainPhoto

book: The Vision of Sir Launfal, 1848

Link
Works description
mainPhoto

book: Under the Willows, 1869

Link
Works description
mainPhoto

book: The Cathedral, 1870

Link
Works description
mainPhoto

book: Heartsease and Rue, 1888

Link
Works description
mainPhoto

book: Conversations on the Old Poets, 1844

Link
Works description
mainPhoto

book: Fireside Travels, 1864

Link
Works description
mainPhoto

book: Among My Books, 1870

Link
Works description
mainPhoto

book: My Study Windows, 1871

Link
Works description
mainPhoto

book: Among My Books, 1876

Link
Works description
mainPhoto

book: Democracy and Other Addresses, 1886

Link
Works description
mainPhoto

book: Political Essays, 1888

Link
Works description
mainPhoto

Relatives

Charles Russell
Harriett Brackett Spence Lowell
Maria
Blanche
Mabel
Rose
Walter
Frances
Charles
Rebecca
Mary
William
Robert

School description
College/University Description
Personality
Quotes from others about the person
Physical Characteristics
Go
up
Edit Profile