Background
Career
Trial attorney United States Department Justice, Washington, 1976-1977. Special assistant to director ACTION, 1978-1979. Counsel Senate Judiciary Committee, 1979-1981.

Chief minority counsel Senate Judiciary Subcommittee, 1981-1986. Chief counsel Senate Agricultural Committee, 1987-1988. President, general counsel Podesta Associates, Inc., 1988-1993.

Assistant to president, staff secretary The White House, 1993-1995, assistant to president, deputy chief of staff, 1997-1998, chief of staff to President, 1998—2001. President, Chief Executive Officer Center American Progress, since 2001. Co-chairman Barack Obama Presidential Transition Team, 2008—2009.

Visiting professor law Georgetown University Law Center, Washington, 1983, Washington, 1995—1997, Washington, 1998—2000, Washington, since 2001. Chair United States Senate subcommittee, Task Force Privacy and Technology, Washington, 1991. Member council Administrative Conference United States, Washington, 1993—1995.

Member Committee Protecting and Reducing Government Secrecy, Washington, 1995.
Membership
Fellow: Natural Resources Defense Council (senior ). Member: American Bar Association (council, secretary individual rights and responsibilities since 1994, chair 2002-2003), District of Columbia Bar (chair administrative law section 1982-1983), League Conservation Voters (board directors since 2001).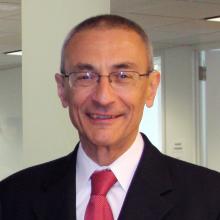 Born
January 8, 1949
(age 68)
1971

1976

1976 - 1977

1978 - 1979

1979 - 1981

1981 - 1986

1987 - 1988

1988 - 1993

1988 - 1993

1997 - 1998

1997 - 1998

2001

2001

2008 - 2009