Usain Bolt (Usain St. Leo Bolt, Lightning Bolt )
Background
Bolt was born on 21 August 1986 in Sherwood Content, a small town in Trelawny, Jamaica, and grew up with his parents, Wellesley and Jennifer Bolt, his brother Sadiki, and his sister Sherine.His parents ran the local grocery store in the rural area, and Bolt spent his time playing cricket and football in the street with his brother, later saying, "When I was young, I didn't really think about anything other than sports".
Education
As a child, Bolt attended Waldensia Primary, where he first began to show his sprinting potential, running in the annual national primary-schools' meeting for his parish. By the age of twelve, Bolt had become the school's fastest runner over the 100 metres distance.

Upon his entry to William Knibb Memorial High School, Bolt continued to focus on other sports, but his cricket coach noticed Bolt's speed on the pitch and urged him to try track and field events. Pablo McNeil, a former Olympic sprint athlete, and Dwayne Jarrett coached Bolt, encouraging him to focus his energy on improving his athletic abilities. The school had a history of success in athletics with past students, including sprinter Michael Green. Bolt won his first annual high school championships medal in 2001, taking the silver medal in the 200 metres with a time of 22.04 seconds.McNeil soon became his primary coach, and the two enjoyed a positive partnership, although McNeil was occasionally frustrated by Bolt's lack of dedication to his training and his penchant for practical jokes.

American colleges offered Bolt track scholarships on the strength of his performances, but the teenager from Trelawny refused them all, stating that he was content to stay in his homeland of Jamaica. Bolt instead chose the surroundings of the University of Technology, Jamaica, as his professional training ground, staying with the university's primitive track and weight room that had served him well in his amateur years.
Career
Under the guidance of new coach Fitz Coleman, Bolt turned professional in 2004, beginning with the CARIFTA Games in Bermuda.He became the first junior sprinter to run the 200 m in under twenty seconds, taking the world junior record outright with a time of 19.93 s. For the second time in the role, he was awarded the Austin Sealy Trophy for the most outstanding athlete of the 2004 CARIFTA Games. A hamstring injury in May ruined Bolt's chances of competing in the 2004 World Junior Championships, but he was still chosen for the Jamaican Olympic squad. Bolt headed to the 2004 Athens Olympics with confidence and a new record on his side. However, he was hampered by a leg injury and was eliminated in the first round of the 200 metres with a disappointing time of 21.05 s.

The year 2005 signalled a fresh start for Bolt in the form of a new coach, Glen Mills, and a new attitude to athletics. Mills recognised Bolt's potential and aimed to cease the sprinter's unprofessional approach to the sport. Bolt began training with Mills in preparation for the upcoming athletics season, partnering with more seasoned sprinters such as Kim Collins and Dwain Chambers.The year began well, and in July, he knocked more than a third of a second off the 200 m CAC Championship record with a run of 20.03 s, then registered his 200 m season's best at London's Crystal Palace, running in 19.99 s . Bolt reached the world top-5 rankings in 2005 and 2006.

Bolt had focused his athletics aims, stating that 2006 was a year to gain experience. Also, he was more keen on competing over longer distances, setting his sights on running regularly in both 200 m and 400 m events within the next two years.

In the championship of Jamaica in 2007 Bolt ran the distance in 19.75 seconds, beating by 0.11 seconds to keep the 36 years, the national record set by Don Quarry. At the World Championships in Athletics Osaka 2007 Bolt won a silver medal in the women's 200 meters, losing to American Tyson Gay. May 3, 2008 Bolt overcame hundred meters in 9.76 seconds, which was the second officially registered achievement in the history of the competition, after the result of his compatriot Asafa Powell. Less than a month later, on May 31, at the Grand Prix «Reebok» New York Bolt ran 100 meters in 9.72 seconds, setting a new world record, beating the achievement of Powell (9.74 seconds). In August 16, 2008 in Beijing, Bolt, breaking the hundred meters in 9.69 seconds, won the gold medal in the 2008 Olympics and set a new world record. In August 20th, 2008 Bolt wins his second gold medal, running a distance of 200 meters in 19.30 seconds, thus beating the seemingly eternal world record of Michael Johnson by 0.02 seconds.

In August 22, 2008, the day after his 22nd birthday, Bolt won his third gold medal at the Beijing Olympics in the relay 4 × 100 meters for Team Jamaica. However, his team set a new world and Olympic record (37.10 seconds). In May 17, 2009 Usain Bolt set a new world record at 150 meters in the street race in Manchester - 14.35 sec. Previous achievement was officially recognized by the 14.8 it was installed in 1983 Olympic champion in Moscow-1980 for 200 Italian Pietro Menne. Noteworthy is the fact that the race took place in the pouring rain. At the World Championships 2011 in Daegu in the 100 meters in the final made ​​a false start and was disqualified. On the course, twice as long as won the gold medal with a 4th result in the history of the world sprint (19.40 seconds), and in the final relay 4 × 100 meters Jamaican national team, for which the last stage ran Bolt won the gold with a new world record (37.04 sec.) Bolt of Jamaica in the championship was just two defeats from his compatriot Johan Blake, at 100 and 200 m

At the 2012 Olympics in London again won three gold medals, winning the 100m (set a new Olympic record of 9.63 seconds), 200m and relay 4 × 100 m (Team Jamaica set a new world record - 36.84 with ) and became a six-time Olympic champion. Then in the form of an ultimatum demanded that members of the media to call him only "living legend" in the event of threatening not to give interviews. After the finish of the baton in the air was shown Bolt dispute with one of the judges, who took away his baton and did not want to give it away as a souvenir, but later handed Bolt still stick as a gift.
Major achievements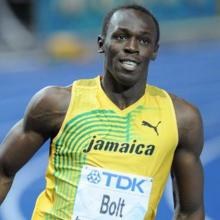 Born
August 21, 1986
(age 31)
Nationality
Ethnicity:
Contributor  
Career

Professional sprinter
Jamaican Olympic Track & Field Team

Major Achievements

300 meters (30.97 seconds), 2010

Awards

recipient Gold medal
Gold Medal
Major Achievements

Based on 2008 results and 2009 Bolt was named best sportsman and the athlete in the world. setting individual world records in: 100 meters (9.58 seconds), 2009
Based on 2008 results and 2009 Bolt was named best sportsman and the athlete in the world.
Go
up
Edit Profile