Education
Nothing is known of Macpherson's childhood until his study in medicine at the University of Edinburgh between 1831 and 1835. He apparently did not complete his medical studies, and subsequently studied art at the Royal Scottish Academy in Edinburgh, where he exhibited portraits between 1835 and 1839.
Career
A surgeon in Edinburgh, he went to Rome in 1840. Influenced by a medical colleague who was also a photographer, MacPherson developed an interest in the new art form. His own work soon surpassed that of his friend and fellow countryman, James Anderson.

In 1853 MacPherson obtained a patent from the Minister of Commerce, Art, Industry and Agriculture for a method of making lithographic copies using lithographic stone and steel plates.

He is especially remembered for his photographs of architecture and sculpture.
Major achievements
Connections
In 1847, Macpherson met and fell in love with seventeen-year-old Louisa Gerardine ("Geddie") Bate, who had travelled from London to Rome in the company of her aunt, art historian Anna Jameson. Macpherson and Bate continued the relationship after Bate's return to England, despite her parents' and aunt's objections, and were married in September 1849, in Ealing.

Over the course of his photography career, Macpherson catalogued 1,019 photographs. Today, significant numbers may be found at George Eastman House, the J. Paul Getty Museum, the Courtauld Institute of Art, and the British School at Rome. Smaller collections are found worldwide.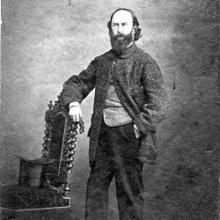 Born February 27, 1811
Nationality
Ethnicity: