Education
Career
His career was meteoric: lord mayor of Danzig in 1896, lord lieutenant of the province of West Prussia six years later, and Prussian minister of trade in October 1905. In this capacity Delbrück attempted through enhanced social welfare legislation to gain the support of the workers, especially those in the mining industry, for the Wilhelmian state. In 1909 Chancellor Theobald von Bethmann Hollweg appointed Delbrück minister of the interior; four years later Delbrück also became vice-president of the Prussian ministry of state. Among his most important acts were the concentration as well as regulation of all state insurance matters in 1911 and the drafting of a new constitution for Alsace-Lorraine.

In August 1914, Delbrück was entrusted with the economic aspects of the German mobilization. It proved too much for him. Already ill and overburdened, Delbrück lapsed into inaction and was unable to meet the mounting food shortage; the Social Democrats demanded price ceilings and controls on producers in November 1914. In order to ease Delbrück's load, Georg Michaelis was entrusted with the national food supply, and in February 1915, the German Upper House (Bundesrat) placed wheat production under government control. By October 1915, public pressure had forced Delbrück to set up an imperial potato office.

The year 1916 proved decisive for Delbrück. Food riots increased and isolated strikes attested to the dirth of edibles. Ill and universally denounced, Delbrück resigned on May 23, 1916. However, on October 14, 1918, he accepted the post of chief of the Civil Cabinet in order to realize Wilhelm II's promise of September 30 to liberalize the constitution by introducing ministerial responsibility. But it was already too late for piecemeal reforms: the kaiser was forced to abdicate on November 9 and to yield to a republic in Berlin.

After the war, Delbrück, who had been ennobled in 1916, helped to found the German National People's party (DNVP). Unfortunately, the moderate Delbrück, who counseled support for the Weimar Republic, proved unable to lead his party; instead, the DNVP increasingly grew hostile towards the new state in general and the policy of fulfillment in particular. Delbrück died at Jena on December 17,1921.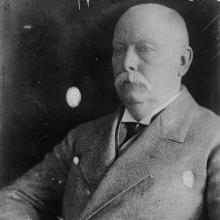 Born January 19, 1856
Died
December 17, 1921
(aged 65)
Nationality
Ethnicity:
1882

1905

July 14, 1908 - May 22, 1916

July 14, 1908 - May 22, 1916

October 14, 1918