Background
Education
Career
He was wounded in action on three occasions. Mangin saw service in the Sudan, 1890-1894, and he commanded the advance guard in the Marchand expedition that transversed Africa from west to east in the years 1895-1898. Service in Indo-China, 1901-1904, was followed by a tour in West Africa, 1907-1911. Mangin capped his distinguished career as a colonial soldier by defeating the Moroccan pretender Al-Hiba and expelling him from Marrakesh in 1912.

Mangin, promoted to general, led a brigade in General Lanrezac's Fifth Army in the opening weeks of the war and received a divisional command in late August 1914. He participated in the Artois offensive of 1915. By the beginning of 1916, General Mangin had a widespread reputation for technical competence and bravery, combined with optimism, fierce aggressiveness, and a willingness to accept heavy losses. He frequently commanded troops from French West Africa, and his reputation was clouded in early 1916 by the collapse of one of these units under the strain of prolonged combat. Only the intervention of General Nivelle saved his career.

Mangin commanded the Fifth Infantry Division in Nivelles corps at Verdun during the first phase of the battle. In early April 1916, Mangin launched a series of bloody and futile counterattacks against the Germans along the flanks of Fort Douaumont. In late May he succeeded at enormous cost in retaking Douaumont briefly, but his forces were by then too weak to hold that symbolic and powerful set of fortifications. Mangin was temporarily relieved, but he returned to command a corps on the right bank of the Meuse in June. His fierce frontal assaults, backed by only poorly coordinated artillery support, failed in June and July, earning him a personal rebuke from General Pétain, the supreme commander at Verdun.

Established as Nivelle s protégé, Mangin carried out successful Verdun counteroffensives from October to December 1916. His forces, adequately supported by artillery using Nivelle's innovative "rolling barrage, retook Douaumont. In late December Mangin took over the Sixth Army, which Nivelle, now France's generalissimo, had designated for the crucial role in the coming spring offensive on the Aisne.

Mangin's enthusiasm helped stifle doubts in Prime Minister Ribot's government concerning the planned Nivelle offensive. When the Reserve Army Group commander General Micheler began to develop doubts, Nivelle circumvented the chain of command to deal directly with Mangin. Mangin's Sixth Army suffered bloody losses in the calamity of

April 1917 against the Germans' powerful defenses at the Chemin des Dames. The Sixth Army became a center for the ensuing mutinies. Mangin was relieved of command and went into involuntary retirement until the close of 1917. He was rehabilitated under the patronage of the offensive-minded General Foch, who sought to counterattack Petain's preference for defensive actions by installing as his subordinates such figures as Mangin. Mangin received a corps at first and then, in the summer of 1918, the Tenth Army. His forces attacked the western flank of the Marne salient at Soissons in July 1918, and Mangin s boldness and optimism (questionable assets on the constricted battlefields of 1916 and 1917) shone in the conditions of more mobile warfare. At the time of the armistice, Mangin was preparing an offensive into his native Lorraine, and he subsequently returned in triumph to Metz. He became a public hero and Prime Minister Clemenceau expressed concerns about Mangin's political ambitions.

Mangin s Tenth Army stood occupation duty on the Rhine with headquarters at Mainz, and Mangin became a patron to Rhenish separatist movements in 1919, favoring an independent republic and French client state on the west bank of the Rhine. He was relieved by Clemenceau in October 1919 but remained on active duty and saw extensive service in North Africa. He died in Paris on May 12, 1925.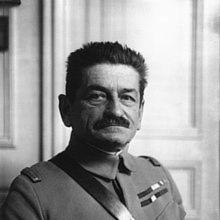 Born July 6, 1866
Died
May 12, 1925
(aged 58)
Nationality
Ethnicity: