Roberto Gastone Zeffiro Rossellini
Background
Rossellini was born in Rome. His mother, Elettra (née Bellan), was a housewife born in Rovigo, Veneto, and his father, Angiolo Giuseppe "Beppino" Rossellini, who owned a construction firm, was born in Rome from a family originally from Pisa, Tuscany. His mother was of part French descent, from immigrants who had arrived in Italy during the Napoleonic Wars. He lived on the Via Ludovisi, where Benito Mussolini had his first Roman hotel in 1922 when Fascism obtained power in Italy.
Education
Rossellini's father built the first cinema in Rome, the "Barberini", a theater where movies could be projected, granting his son an unlimited free pass; the young Rossellini started frequenting the cinema at an early age. When his father died, he worked as a soundmaker for films and for a certain time he experienced all the accessory jobs related to the creation of a film, gaining competence in each field. Rossellini had a brother, Renzo, who later scored many of his films.
Career
In 1937, Rossellini made his first documentary, Prélude à l'après-midi d'un faune. After this essay, he was called to assist Goffredo Alessandrini in making Luciano Serra pilota, one of the most successful Italian films of the first half of the 20th century. In 1940 he was called to assist Francesco De Robertis on Uomini sul Fondo. His close friendship with Vittorio Mussolini, son of Il Duce, has been interpreted as a possible reason for having been preferred to other apprentices.

Some authors describe the first part of his career as a sequence of trilogies. His first feature film, The White Ship (1941) was sponsored by the audiovisual propaganda centre of Navy Department and is the first work in Rossellini's "Fascist Trilogy", together with A Pilot Returns (1942) and The Man with a Cross (1943). To this period belongs his friendship and cooperation with Federico Fellini and Aldo Fabrizi. The Fascist regime collapsed in 1943 and just two months after the liberation of Rome (4 June 1944), Rossellini was already preparing the anti-fascist Roma città aperta (Rome, Open City 1945). Fellini assisted on the script and Fabrizi played the role of the priest, while Rossellini self-produced. Most of the money came from credits and loans, and film had to be found on the black market. This dramatic film was an immediate success. Rossellini had started now his so-called Neorealistic Trilogy, the second title of which was Paisà (1946), produced with non-professional actors, and the third, Germany, Year Zero (1948), sponsored by a French producer and filmed in Berlin's French sector. In Berlin also, Rossellini preferred non-actors, but he was unable to find a face he found "interesting"; he placed his camera in the center of a town square, as he did for Paisà, but was surprised when nobody came to watch.

As he declared in an interview, "in order to really create the character that one has in mind, it is necessary for the director to engage in a battle with his actor which usually ends with submitting to the actor's wish. Since I do not have the desire to waste my energy in a battle like this, I only use professional actors occasionally". One of the reasons for success is supposed to be Rossellini's rewriting of the scripts according to the non-professional actors' feelings and histories. Regional accent, dialect, and costumes were shown in the film as they were in real life.

With this letter began one of the best known love stories in film history, with Bergman and Rossellini both at the peak of their careers. Their first collaboration was Stromboli terra di Dio (1950) (in the island of Stromboli, whose volcano quite conveniently erupted during filming). This affair caused a great scandal in some countries (Bergman and Rossellini were both married to other people); the scandal intensified when Bergman became pregnant with Roberto Ingmar Rossellini. Rossellini and Bergman had two more children, Isabella Rossellini (actress & model) and her twin, Ingrid Isotta. Europa '51 (1952), Siamo Donne (1953), Journey to Italy (1954), La paura (1954) and Giovanna d'Arco al rogo (1954) were the other films on which they worked together.

In 1957, Jawaharlal Nehru, the Indian Prime Minister at the time, invited him to India to make the documentary India and put some life into the floundering Indian Films Division. Though married to Bergman, he had an affair with Sonali Das Gupta, a screenwriter, herself married to local filmmaker Hari Sadhan Das Gupta, who was helping develop vignettes for the film. Given the climate of the 1950s, this led to a huge scandal in India as well as in Hollywood. Nehru had to ask Rossellini to leave. Soon after, Bergman and Rossellini separated.

Rossellini eloped with married Sonali Das Gupta, when she was only 27 years old and later married her in 1957 and adopted her young son Arjun, renamed Gil Rossellini (23 October 1956 – 3 October 2008). Rossellini and Sonali had a daughter together, Raffaella Rossellini (born 1958), who is also an actress and model.

In 1973 Rossellini left Sonali for a young woman, Silvia D'Amico.

In 1971, Rice University in Houston, Texas, invited Rossellini to help establish a Media Center, where in 1970 he had begun planning a film on science with Rice Professor, Donald D. Clayton. They worked daily for two weeks in Rome in summer 1970; but financing was inadequate to begin filming. In 1973, he was invited to teach at Yale University in New Haven, Connecticut, where he taught a one-semester course entitled "The Essential Image."
Connections
On 26 September 1936, he married Marcella De Marchis (17 January 1916, Rome – 25 February 2009, Sarteano), a costume designer with whom he collaborated even after their marriage was over. This was after a quick annulment from Assia Noris, a Russian actress who worked in Italian films. De Marchis and Rossellini had two sons: Marco Romano (born 3 July 1937 and died of appendicitis in 1946), and Renzo. Rossellini and De Marchis separated in 1950 (and eventually divorced). Although he wasn't personally religious, he had a strong interest in Christian values in the contemporary world; he loved the Church's ethical teaching, and was enchanted by religious sentiment—things which he saw as being neglected in the materialist world.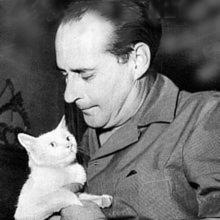 Born May 8, 1906
Died
June 3, 1977
(aged 71)
Nationality
Ethnicity: