Mingchien Joshua Bau (Pao Ming Chien)
Education
Mr. Bau received his early education in schools in China and graduated from Tsing Hua College, 1913. Then he studied in America berween 1914 and 1922, where he received Bachelor of Arts degree from Yale, Master of Arts from Columbia and Doctor of Philosophy in political science from Johns Hopkins. Later Bau Mingchlen Joshua was appointed as an International Law Fellow by the Carnegie Endowment (1920-1921), and was President of the Chinese Students Alliance in America.
Career
Bau Mingchlen Joshua engaged in educational work after his return to China. From 1922 to 1926 he was working as a dean of English in National Normal University and also sometime editor of The Peking Daily News. Mr. Bau was a former dean of the College of Railway' Administration, University of Communications and a Peking former professor.

He was the head of political science department in the College of Law and National Peiping University during the period of 1927-1931. In 1931 Bau Mingchlen Joshua was a member of the Foreign Relations Committee of the Southern Delegation to the Peace Conference at Shanghai. He was a sometime visiting professor in the University of the Philippines, Manila in 1932. Mr. Bau was a professor of political science in Northeastern University, Peiping, and lecturer on oratory in National Normal University, Peiping.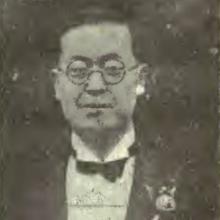 Born 1894
Nationality
Ethnicity:
1913

1922 - 1926

1927 - 1931

1932
Contributor  
Background
School and college years description
Album
College/University
Album
College/University

Columbia
Columbia University

Album
College/University

Johns Hopkins
Johns Hopkins University

Career Description
Career Description
Album
Career

National Normal University

Album
Career

National Peiping University

Album
Career

The University of the Philippines

General Info
Background
School and college years description
Go
up
Edit Profile