Ye-Young Chan (Chen Ju-hsuan)
Education
Chan Ye Young graduated from Whampoa Military School, 1910. In 1912 went io America on a Government Scholarship and entered the University of Illinois in 1914 to study political economy, graduating in 1918 with Bachelor of Arts degree. Then he transferred to Columbia University in the fall of 1918, studying law and political science, receiving Master of Arts and Bachelor of Laws degrees in 1920.
Career
Chan Ye Young returned to China via Europe in 1921 and was appointed a professor at the Peking Normal College. Later in the same year, became editor of the monthly magazine of Shanghai Chinese General Chamber of Commerce. In 1923 he was appointed a dean of the department of political economy of the National South-eastern University at Nanking, and served as acting President of the University and concurrently director of the general affairs department from 1925 to 1927.

Mr. Chan came to Shanghai in the fall of 1927 and became professor of political science at the Kwanghwa University and concurrently dean of the department of liberal arts of the same university (1928). In 1929 he was appointed a secretary of National Reconstruction Commission of the National Government, and promoted chief secretary of the Commission in October, the same year, which latter position he held till 1932. Toward the end of 1932 he was appointed a member of the Legislative Yuan, concurrently member of the Constitutional Drafting Committee of the same Yuan.
Works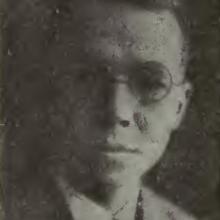 Born February 25, 1894
Nationality
Ethnicity:
1910

1914 - 1918

1918 - 1920

1921

1921

1923

1925 - 1927

1925 - 1927

1927

1928

1929

October, 1929 - 1932

1932

1932
Contributor  
General Info
School and college years description
College/University
Background
Background
Career Description
Go
up
Edit Profile