Education
Chang Fu-liang received his preliminary education at St. John's University between 1903 and 1909. In 1909 he went to America in the first group of Indemnity students.

In 1913 Chang Fu-liang recieved a Bachelor of Philosophy degree from Yale University, in 1915 - Master of Foresty degree. Besides, he became a holder of a graduate scholarship at Harvard University in Chinese dendrology and landscape architecture in the period from 1921 to 1922. In 1927 Chang Fu-liang became a post-graduate student in agriculture at the University of Georgia with Master of Science degree.
Career
Between 1915 and 1921 Chang Fu-liang was a professor of botany and forestry at Yale-in-China College, Changsha. From 1922 to 1926 he was a professor at Yale-in-China College and dean of the Middle School department. Chang Fu-liang made an extensive field study on China's rural conditions between 1927 and 1929. He also took a position of a rural secretary of the National Christian Council of China.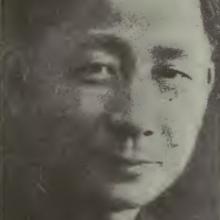 Born March 9, 1889
Nationality
Ethnicity:
1913

1915

1927

1903 - 1909

1915 - 1921

1921 - 1922

1922 - 1926

1922 - 1926

1927 - 1929