Education
Chang Nal-yen received his primary and secondary education in Nanzing, Hangchow and Soochow. He went to Europe in 1913 and studied chemistry in the University of Birmingham, Imperial College of Science and Technology, London, and the University of Geneva.

His thesis "Contribution a la Connaissance des Acides Ortho-et paranitro - alpha - bromo - cinnamiques" won for him the Doctor of Science degree at University of Geneva in 1919.
Career
Mr. Chang returned to China in 1919 after touring and studying education in Europe, America and Japan. Between 1920 and 1923 he worked as a professor of chemistry in the National Peking University and concurrently taught chemistry in the Peking College and Peking Technical College.

Chang Nal-yen was elected president of the Provincial Educational Association of Chekiang and concurrently professor of chemistry in the Chekiang Technical College in 1923. Mr. Chang was appointed councillor in the Headquarters of Dr. Sun Yat-sen in 1924.

He taught history of science in Kwanghwa University, Shanghai in 1925. Mr. Chang was appointed dean of the college of engineering, National Kwangtung University and concurrently member of the Board of Education of the Nationalist Government in 1926. He was appointed as member of Provincial Government of Kiangsu and concurrently Commissioner of Education of Kiangsu in 1927.

From 1927 till 1930 Chang Nal-yen took up the post of Chancellor of National Central University and concurrently member of the Provincial Government of Kiangsu. Between 1930 and 1932 he was a member of the Chekiang Provincial Government, during the period of 1933-1935 he served as a Chinese Minister to Belgium.

He was also a noted historian besides being a chemist and educationalist.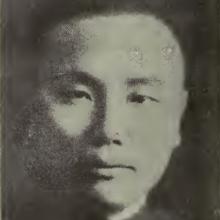 Born 1894
Nationality
Ethnicity:
1919

1913

1920 - 1923

1920 - 1923

1920 - 1923

1923

1924

1925

1926

1926

1927

1927

1927 - 1930

1927 - 1930

1930 - 1932

1933 - 1935