Tsung-Faung Soong (Sung Chun-fang)
Education
Career
Tsung-faung Soong was a lecturer on modern languages at St. John's University in 1916-1917. Then he became a professor of French at Tsinghua College in Peking, China in 1918, professor of French literature in the Peking Government University in 1918-1920.

After that he travelled to Europe to study postwar social conditions and literary tendencies in 1920 and there he also served as secretary of the Chinese Delegation to the Peace Conference at Paris.

Mr. Soong became a secretary of the Ministry of Finance in 1922-1923, co-director of the loans-department of the same Ministry, vice-chairman of the tariff investigation commission, director of the Research Department of the Shanghai Commercial and Savings Bank.

He was an author of "Parcourant le Monde en Flammes," "La Literature Chinoise Contemporaine" and "Dramatic Essays". For a time, he also served as editor of several papers in Geneva and China.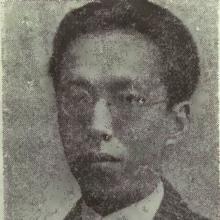 Born
Nationality
Ethnicity:
Contributor  
| | | | |
| --- | --- | --- | --- |
| Denis Samoilenko Samoilenko | last changed | 18/09/2017 | view changes |
Nationalities
Ethnicity
Activities
General Info
Background
Album
Person Photo
Go
up
Edit Profile