Cheou-kang Sie (Hsieh Shou-kang)
Education
Cheou-kang Sie was sent to Belgium to study by the Kiangsi Provincial Government in 1913 and entered University Libre de Bruxelles in 1914. Then he joined Ecole des Sciences Politiques, Paris (section diplomatique) in 1915 and was graduated in 1917. He later entered the Universite de Lausanne and was graduated with a degree of Licencie' des Sciences politiques et sociales in 1919. Mr. Sie did research work at Berlin Universitat in 1922-1923. After that he returned to Universite de Bruxelles in 1923 to prepare his thesis "Les Emprunts de Guerre Francais" for which he received the degree of Doctor en Science economique in 1924 there.

After he devoted his time to literary pursuits till 1927 when his "Le Jade Brise" was published and played at Le Theatre Royal du Pare de Bruxelles with great success.


Career
Cheou-kang Sie represented China at Congress Universal du Theatre in 1928. Then he returned to China and became dean of the College of Arts, National University in Nanking in 1929. After that he was appointed Charge d'Affaires to Belgium in 1929 to introduce Chinese civilization to Europe, he made many speeches at Paris, Berlin and other European cities, which were later collected into a book under the name of "Est-Ouest Reflets, Croises" published by the "Labor' Magazine with a preface by Paul Hyman, Belgian Minister for Foreign Affairs and another by G. Vanzype, Secretary of the Belgian Royal Academy.

Mr. Sie returned to China in 1931 and was appointed a member of the Legislative Yuan on the Foreign Relations Committee of the Yuan, which post he has since held. Then he promoted the organization of the Sino-Polish Cultural Society at Nanking in 1933 and was made a member of the board of directors.

He translated two plays of G. Vanzype : "Les Etapes" and "Les Semailles" into Chinese, published by the Commercial Press in Shanghai.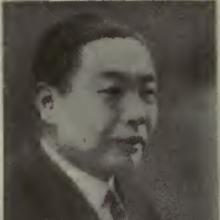 Born 1893
Nationality
Ethnicity:
1914

1915 - 1917

1919

1923 - 1924

1929

1929
Contributor  
| | | | |
| --- | --- | --- | --- |
| Denis Samoilenko Samoilenko | last changed | 18/09/2017 | view changes |
Nationalities
Ethnicity
Activities
General Info
Background
Go
up
Edit Profile