Education
She began at the age of five, quickly becoming the most adored child star in Japan appearing in over a hundred movies as a cute, perky tot, male or female depending on the exigencies of plot, her adorable smile plastered on posters and toothpaste ads across the country in her stepparents' determination to squeeze money out of their meal ticket. She was called the Japanese Shirley Temple, but she says she was more natural more like Mar¬garet O'Brien.
Career
Then came her teenage period, which lasted through the war (she was a pinup girl for the boys overseas). She had an immense success in 1938 with Composition Class (Kajiro Yamamoto), about a poor young schoolgirl who wins a composition contest with an essay about raising rabbits. Then in 1941 she triumphed in Horse (Yamamoto), a semi-documentary that took four years to make, about a seventeen-year-old girl who raises a horse she loves and eventually sacrifices it to the need of the army. This movie, much of it shot in primitive locations, involved her with Akira Kurosawa, who w'as a young man in charge of the location shooting. Their tentative romance was ruthlessly ended by her family and the studio authorities, and she never worked with him again.

Finally, after a spell as a popular club singer during the Occupation, came her mature period, during which she was one of the most popular and highly paid actresses, playing strong, energized women.

She worked for many directors after the war. With Ozu in The Munekata Sisters, though her rebellious and rather lower-class demeanor was less suited to Ozu's drama of resignation (and innately conservative attitudes?) than was Set-suko Hara's more well-bred presence. They had appeared together in The Opium War (Masahiro Makino), a strange adaptation of Griffith's Orphans of the Storm, in which Takamine took the Dorothv Gish role of the blind girl while Hara replaced Lillian. Mara was the refined ideal; Takamine, with her nasal voice and direct manner, was the woman next door. She worked for Gosho in Where the Chimneys Are Seen, in which she almost drives her suitor out oi his mind with nagging; with Shiro Toyoda in a period film. The Mistress/Wild Geese, in which she is forced to become the concubine of an elderly merchant; and several times for her husband, Yasuzo Masamura, a screenwriter who turned to directing.

But for twenty years her most important work was divided between Naruse and Kinoshita. She made seventeen movies with Narnse, the most important of which demonstrate her capacity for struggle and endurance. In Floating Clouds, set in the impoverished postwar period, she suffers everything a woman can at the hands of a worthless lover she is beaten, abandoned, betrayed; she is arrested, forced to have an abor-tion, stricken with tuberculosis and then she dies, still hoping for his love. But she is equally noted for her resistance to adversity in N aruse's Lightning, Flowing, When a Woman Ascends the Stairs, and Yearning.

Floating Clouds won the critics' award for Naruse as best picture lor 1955. The year before, another Takamine vehicle had won the prize for Kinoshita: Twenty-Four Eyes, a sentimental epic about a noble schoolteacher on a remote island who lives through the quarter century that saw the rise of militarism, the war, and defeat. All (apan wept at Takamine s resolute teacher and the fate of her twelve pupils (twenty-four eyes). For Kinoshita she also made the hilarious comedy Carmen Comes Home, in which she is a not very bright stripper who returns to her native village for a brief but eventful visit. This was Japan's first color film, and another huge success. She made almost a dozen films for Kinoshita, and it was he who coaxed her out of retirement, in 1979, for her last appearance on the screen, Oh My Son!

More or less self-educated, angry at her family who exploited her, suspicious of the studios, resentful about acting, still Takamine had a triumphant career. Today, she and her husband happily divide their time between Japan and Hawaii; and she has written a number of books, ranging from her two-volume, very frank autobiography, My Professional Diary, to a travel book and a cookbook. Like so many of her beset heroines, she has survived.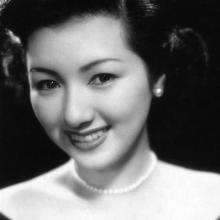 Born March 27, 1924
Died
December 28, 2010
(aged 86)
Nationality
Ethnicity: