Background
Education
Career
Strathairn's big-screen debut came in 1980 with Return of the Secaucus Seven, a film directed by Sayles. He went on to land small parts in various films, including Silkwood (1983); Matewan (1987), with Chris Cooper and James Earl Jones; and Dominick and Eugene (1988), with Ray Liotta and Jamie Lee Curtis. Matewan, (1987), and Eight Men Out (1988). He also appeared on television around this time, including on the popular crime series Miami Vice and the show Spenser: For Hire.

In the 1990s, Straithairn established his reputation as a serious actor. He was cast in a number of widely acclaimed TV miniseries and feature films throughout the decade, including the John Sayles-directed drama City of Hope (1991), which sheds light on a city's racial and political problems; The River Wild (1994), with Meryl Streep, Kevin Bacon and John C. Riley; Losing Isaiah (1995), with Halle Berry and Jessica Lange; and Limbo (1999), another Sayles film, with Kris Kristofferson.

In 2006, Strathairn was nominated for an Academy Award for his portrayal of radio personality Edward R. Murrow in Good Night, and Good Luck (2005), directed by actor/filmmaker George Clooney. He went on to star in the feature films We Are Marshall, The Bourne Ultimatum and Temple Grandin, among several other roles.

More recently, Strathairn earned a part as American politician William Seward—the U.S. secretary of state who served under presidents Abraham Lincoln and Andrew Johnson—in Lincoln (2012), the Steven Spielberg-directed biopic of the famous Civil War president, played by Daniel Day-Lewis. Other cast members of Lincoln include Sally Field, Tommy Lee Jones, Joseph Gordon-Levitt and John Hawkes.

In 2014, Strathairn starred as Admiral William Stenz in latest remake of Godzilla.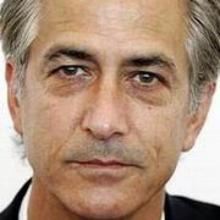 Born
January 26, 1949
(age 68)
Nationality