Madeleine Stowe
Madeleine Stowe is an american actress best known for her portrayal of the villainous Victoria Grayson in the ABC series Revenge. Her film credits include 12 Monkeys, The Last of the Mohicans, and Short Cuts, the latter of which earned her the National Society of Film Critics Award for Best Supporting Actress.
Background
Madeleine Stowe was born at the Queen of Angels Hospital, in Hollywood, Los Angeles, California and raised in Eagle Rock, a suburb of Los Angeles. Her father, Robert Stowe, was a civil engineer from a "poor Oregon family", but her mother, Mireya (née Mora Steinvorth), came from a prominent family in Costa Rica.
Education
Stowe studied cinema and journalism at the University of Southern California. Not being especially interested in her classes, she volunteered to do performances at the Solaris, a Beverly Hills theater, where a movie agent saw her in a play and got her several offers of appearances in TV and films. In 1978, she made her debut in an episode in the police drama series Baretta, followed by a string of TV work with guest appearances on The Amazing Spider-Man, Barnaby Jones and Little House on the Prairie.
Career
In Mohicans, she was genuinely brave, and per- suasivelv moved by her Hawkeye. Mann's camera homed in on her bold, frontal stare, her nostrils twitching like a fine mare's. Unlawful Entry (Jonathan Kaplan) was more conventional, but she was one of many admirable women in Short Cuts (Robert Altman) though, wry, shrewd, and credibly trapped in a tricky life. In Blink (Michael Apted), she was a rugged Irish violin-player who was blind; in truth, she was more interesting that way than with her sight restored. But she made a slight premise intriguing. She has also done China Moon (John Bailey); and Bad Girls (Kaplan).

She has tended to be a hanger-on in her more recent pictures: Twelve Monkeys (Terr) Gilliam); The Proposition (Lesli Linka Clatter); Playing by Heart (98, Willard Carroll); The General's Daughter (Simon West); Impostor (Gary Fleder); Avenging Angelo (Martyn Burke); as Isabelle in the TV The Magnificent Ambersons (Alfonso Arau); We Were Soldiers (Randall Wallace).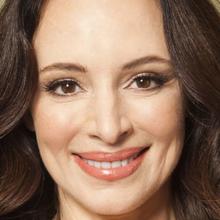 Born
August 18, 1958
(age 59)
Nationality