Background
Education
Career
Upon graduation, she was the first woman to enter the former British Hong Kong government as administrative officer. She was married to Archie Chan Taiwing, who was a former executive of the Caltex oil company. From 1962 to 1984, Anson Chen held a number of senior posts, and in the 1970s she organized other female administrative officers in the fight for equal rights and opportunities for both sexes in the civil service. From 1984 to 1987, she was director of Social Welfare, the first woman to rise to such a position. It was during her directorship in 1986 that the Kwok Ahnui incident happened. The media criticized her as a "heartless bureaucrat," as she ordered officers to break into Kwok Ahnui home and took the six-year-old girl away from her mentally unstable mother. Many years later, Chen described the event as an unforgettable experience. From 1987 to 1993, Chen was secretary for Economic Services,and was the first woman to lead a policy branch. In 1993, she became the chief secretary of the British Hong Kong government, and was the first Chinese and the first woman to head the civil service. In the same year, Chinese mainland officials attacked her in the Container Terminal 9 dispute.

The popularity ratings of Chen were high. In May 1996, the local South China Morning Post conducted an opinion poll and more than one half of the respondents supported Chen to be the chief executive of the future Special Administrative Region (SAR) government. Later on, rumors spread that Beijing decided on a "dream team" for the SAR,comprising Tung Chee Hwa (Dong Jianhua) and Chief Secretary Anson Chen. Interviewed by CNN, Chen refused to say whether she would join the election, but indicated her willingness to work for the SAR government no matter who became its head. In October, Chen announced that she would not run for chief executive. After Tung Chee Hwa became the chief executive designate in December 1996, he sought the cooperation of Chen so as to ensure the smooth transfer of the civil service after the turnover. Since 1997, the approval ratings of Chen remained high, ranging from over 60% to about 70% in opinion polls conducted by the University of Hong Kong. She enjoyed high popularity, which Tung was unable to achieve. In a Newsweek interview, Chen claimed that she would resign if she had to accept policies contradictory to her own principles. The foreign media often called her the "iron lady" of Hong Kong or "the conscience of Hong Kong."

Anson Chen became the chief secretary for administration of the Hong Kong SAR. There were always rumors that the "Tung-Chen partnership" did not work, because Tung and Chen had different working styles. While the chief executive laid his hands on every government policy and preferred a more personal administration, Chen upheld the traditional practice of the civil service of following established and well-defined rules. In order to remove public anxieties, Tung invited Chen to stay as the chief secretary for administration for three more years in March 1999. In 1998, Chen faced two criticisms. First, legislative council members charged that she was responsible for the chaos of the new Chek Lap Kok Airport as she had been the head of the Airport Development Steering Committee. Second, the Public Accounts Committee report blamed her for failing to clearly inform the executive council of the construction of a power plant when she was serving as secretary for Economic Services.

In January 2001, Chen announced her resignation as the chief secretary. After 39 years in civil service, she explained her retirement due to personal reasons. Speculators linked her resignation to conflicts with Tung, and to an earlier incident in which Chinese Vice-Premier Qian Qichen allegedly told her to provide the chief executive with better support. While Chen denied any problems in her relations with Tung, she admitted that there were people who tried to sow discord in their partnership. In addition, Chen claimed that she had no desire to run for chief executive though Tung's term would expire in 2002. She believed that her successor should be a current senior official, who could continue the best traditions of the civil service.
Major achievements
In recognition of her 34 years of public service to the British Crown, Chan was awarded the Hong Kong Grand Bauhinia Medal in 1999.

She was then appointed by Queen Elizabeth II as Honorary Dame Grand Cross of the Order of St Michael and St George in 2002 in recognition of her service with the Hong Kong government before the handover. Such award was usually given only to Governors of Hong Kong before the return of sovereignty.

She is an honorary fellow of SOAS.

In recognition of her commitment to democracy and the empowerment of women, and her service as Patron of the University, Asian University for Women conferred upon Anson Chan an honorary doctorate degree on 20 May 2017.
Connections
She was married to Archibald ("Archie") Chan Tai-wing from 1963 until his death in 2010. Six years her senior, Archibald was a director of Caltex Oil and taught science at St. Joseph's College, his alma mater. He was also in the Hong Kong Auxiliary Police from 1987 to 1996, when he retired as a commandant.

The couple had two children, son Andrew Chan Hung-wai and daughter Michelle Chan Wai-ling, and four grandchildren.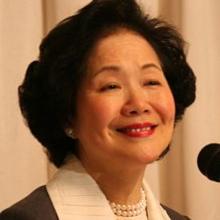 Born January 17, 1940
Nationality
Ethnicity:
1962

April 19, 1993 - October, 1993

November 29, 1993 - June 30, 1997

July 1, 1997 - April 30, 2001

December 3, 2007 - September 30, 2008