Chen Boda
Chen Boda was a Mao Zedong's "political secretary" and research assistant at Yanan; radical ideologist and chief editor of the Chinese Communist Party theoretical journal Red Flag upon its founding in 1958; developer of Marxist rationales to justify the harsh Party rectification of the early 1940s, the quick collectivization of the mid-1950s, the political defense of the Great Leap, and the Cultural Revolution.
Background
Education
One of their motives was probably to facilitate their son's attendance at the Jimei (Chip Bee) Normal School, which had been financed by Singapore tycoon Chen Jiageng (Tan Kah Kee). Upon graduation, Chen traveled briefly to Guangzhou. By 1925, he enrolled at Shanghai Labor University, a project of the First United Front of the Nationalist (GMD) and Chinese Communist parties. The university's faculty included the leftist writer Qu Qiubai. Chen also befriended the future political commissar Rao Shushi, and he joined the Chinese Communist Party (CCP) in 1927.


Career
Returning to Fujian, Chen was hired to work as the private secretary of GMD General Zhang Zhen, doing editorial and clerical preparation for the Northern Expedition as a CCP member of the First United Front. When the Front collapsed he fled to Shanghai, was arrested in Nanjing, jailed for a month,and then released on General Zhang's recommendation. He soon renewed contacts with the Party and was chosen to depart for Moscow to attend Sun Yatsen University. In three years of study there, he became an expert on Marxist theory.

He was afflicted with a stammer, and had a heavy Fujian accent. He was short, and his personality was bookish. In Moscow he was affiliated with the minority M branch faction5, of CCP students, rather than with the main Minternational factionM that was more loyal to Soviet leaders. He was therefore excluded from most politics there and in comparison with others, he learned more Marxist Leninism.

Returning to China in 1931, he married another Moscow student, Zhu Yuren of Sichuan (sister of CCP martyr and Politburo member Luo Yinong, who came from Mao's hometown). Chen taught ancient Chinese history in Beijing, making his name because of articles written under the pen names Chen Zhimei and Chen Boda. He also did underground Party work at Tianjin. Chen wrote articles to mediate a long-running dispute between revolutionary "national defense literatureM writers who stressed class struggle and were associated with Lu Xun (toward whom Chen himself inclined), and other writers who emphasized nationalism and insisted that literature should serve current popular needs. When the Sino-Japanese War expanded in 1937, Chen went to Yanan, lecturing at the Central Party School and heading its China Problems Research Office. He soon became Mao5s research assistant and private secretary, finding apt quotations and helping to express Mao's ideas in Marxist terms. His calligraphy,reportedly taught by his elder brother Dunyu, was reportedly uvery beautiful,M which raised his prestige.

A few months after coming to Yan'an in 1937, Chen published the first collection of Mao writings (Mao Zedong lun). In the July 1, 1938, first anniversary issue of Liberation Daily his article represented the Maoist faction, and it was set beside another essay from a student who had returned from the USSR. Chen participated in the Rectification Campaign after 1942. In 1944-1945 he drafted an official history of the Party, stressing that Mao had consistently evolved the correct line from 1921 onward. (This official history was revised and published in the early 1950s.) Chen joined the Central Committee in 1945, becoming a full member in 1946. By this time, he was Mao's most prominent and steady hagiographer. After 1949,Chen's administrative duties broadened,and he published less. For example, he joined the Party's Rural Work Department in 1955 and the Politburo as an alternate member in 1956. His ideological policy portfolio included defining China position vis-a-vis Soviet revisionism, especially after Khrushchev's criticisms of Stalin. Chen was the only high leader to accompany Mao on both the 1949 and 1957 journeys to Moscow.

He first suggested the slogan "Let one hundred schools of thought contend. The first public use of the term "peopled communew(renmin gongshe) appeared in his July 1, 1958, Red Flag inaugural article as editor. China's expanded cooperatives bore scant resemblance to the 1871 Paris Commune, but Chen had long been fascinated with the Paris precedent. In the fall of 1958, he proposed abolishing the use of Chinese currency an idea from which even Mao Zedong distanced himself. Along with Mao and Zhang Chunqiao, Chen visited a Hebei commune that experimented with the "free supply system." In 1962, when a plenum was called to reverse post-Leap market policies, Chen was chosen to give the report on rural work, perhaps because Mao trusted his in-house radical muse at this time.

By August 1966, Chen became head of the Cultural Revolution (CR) Small Group, surely at Mao5s direction. In this capacity he presided over many Red Guard rallies in Beijing that autumn. By mid-1967, however, Mao needed to mend fences with rebellious soldiers at Wuhan and this meant a break with radicals who had long been Chen's colleagues. The autumn of 1967 saw a purge of the "ultraleft May 16 corps," removing Qi Benyu, Guan Feng, Mu Xin, Lin Jie, and Wang Li all members of the Cultural Revolution Small Group, and all on the staff of Red Flag. Chen survived to help draft Lin Biao5s political report to the 1969 Party congress. When Mao and Zhou Enlai apparently insisted on a less radical version, Chen resisted with Lin's support. The congress elected Chen one of the five Politburo Standing Committee members; this was the highest position in his career. At the August 1970 Lushan Plenum, Chen again sided with Lin to propose that Mao, contrary to the chairman's own wishes,be made head of state.

In 1980, when other top leftists in the Gang of Four were tried, a court sentenced Chen to 18 years in jail. Because of sickness, he was released from prison at age eighty-four in October 1988, in a period of deradicali- zation of the kind he had always opposed. Chen may have been heartened by the repressions surrounding Tiananmen, but he died of heart failure at home on September 20, 1989.
Personality
Chen claimed that dialectical materialism was the world's greatest cultural achievement, and that it came in Chinese as well as Western forms. Modern plan speech(baihua) containing some Western loan words, could be made accessible to the Chinese masses and become "common speech"(putonghua) and similarly, Marxism could be sinicized. Chen relied not just on texts by Marx and Engels, but also on dialectical elements in ancient Chou philosophy. He particularly liked Mo Zi, whose notions on appearance and realityw and uknowledge and actionw(ming shi, zhi xing) seemed useful for contemporary problems. Chen was a Chinese academic, while Mao was an activist who often attacked Chinese traditions more broadly than did his secretary. But Chen could phrase Mao5s ideas dialectically, as a Chinese national form of Marxist Leninism, and his writing talents were a complement to Mao own.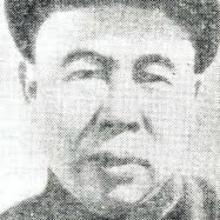 Born July 29, 1904
Died
September 20, 1989
(aged 85)
Nationality
Ethnicity: