Serj Tankian
Serj Tankian is an Armenian-American singer. He started as a singer in the alternative metal band System of a Down and after they went on hiatus he continued his career as a solo artist and producer. He is known for his gritty yet wide vocal range. His solo output mixes various styles and genres, including metal, rock and Armenian musical motifs.
Background
At age seven, Serj Tankian moved with his parents to Los Angeles, California at the beginning of the civil war in Lebanon.

Serj is a vegetarian and likes to read poetry but other than that, few details are known about Tankian's private life. He is especially interested in Shakespeare, T.S. Eliot and Edgar Allan Poe. Serj hates celebrity gossip. He believes it is a waste of time and due to the spreading of rumors, can destroy close relationships .
Education
Career
In 1993, he founded the band Soil (not to be confused with SOiL) with Daron Malakian, which later went on hiatus, and later changed to System of a Down. Tankian is not only a member of the band System of a Down, but also has his own record label which is called Serjical Strike Records, a sub-division of Columbia Records. He also performed guest vocals on songs such as Mushroom Cult by Dog Fashion Disco, and Mein by Deftones. He produced "Enter The Chicken" by Buckethead, and provided vocals to the Buckethead songs "We are One," "Coma" and "Waiting Here." With Serjical Strike Records, he endeavors to offer those musicians often ignored by the mainstream a possibility to release their music and be heard. The first release of Serj's new label was Serart, a project consisting of Tankian, himself, and Arto Tunçboyaçiyan, an Armenian friend of Tankian's.



Tankian is also very involved politically. Together with Tom Morello (ex-Audioslave, Rage Against the Machine, The Nightwatchman), he founded the organization Axis Of Justice. Tankian often speaks publicly against violence and injustice in the world.



Two days after the attacks on September 11, 2001, Serj posted a highly controversial essay on the band's website. It was promptly taken down by Sony, the band's record label. Sony's opinion was that Tankian had tried to justify the terrorist attacks and that his claims were unfounded.



Tankian's first poetry book, Cool Gardens, was published by MTV Books and released on October 1st, 2002. It is a collection of seven to eight years of Tankian's reflections on life, and features artwork by fellow Armenian, Sako Shahinian. The book has received much praise in the artistic community.



In late 2007, Serj released his first solo album "Elect the Dead".
Major achievements
Solo

Elect the Dead (2007)

Imperfect Harmonies (2010)

Harakiri (2012)

Orca

With System of a Down

System of a Down (1998)

Toxicity (2001)

Steal This Album! (2002)

Mezmerize (2005)

Hypnotize (2005)

With Serart

Serart (2003)

With Buckethead and various artists

Enter The Chicken (2005)

Profanation (Preparation for a Coming Darkness) (2008)

With Tony Iommi

Iommi (2000)

With Wyclef Jean

Carnival Vol. The second: Memoirs of an Immigrant (2007)

Grammy Awards

2005, "Chop Suey!", Best Metal Performance, nominated

2003, "Aerials", Best Hard Rock Performance, nominated

2007, "Lonely Day", Best Hard Rock Performance, nominated
Politics
He founded the organization, often speaks publicly against violence and injustice in the world.
Party affiliation: Axis of Justice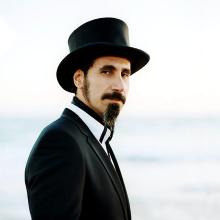 Born
August 21, 1967
(age 50)
Nationality
Ethnicity:
Contributor  
Career

Lead singer of System of a Down
Lead singer System of a Down
Go
up
Edit Profile