Jean Pierre Chouteau
Jean Pierre Chouteau was a French-Creole fur trader, merchant, politician and slaveholder. An early settler of St. Louis, Missouri from New Orleans, he became one its most prominent citizens. He and his brother Auguste Chouteau, known as the "river barons", negotiated the many political changes as the city changed from Spanish rule to becoming part of the United States.
Background
Jean Pierre Chouteau, known as Pierre, was the son of Marie-Therese Bourgeois Chouteau and Pierre de Laclède de Liguest, the latter originally of Bedous in far southwestern France. Pierre was born in New Orleans, Louisiana, then under the authority of New France. He had three younger sisters.
Career
Jean and his brother were creating political alliances with numerous parties. For a long time, they held monopoly rights on the lucrative fur trade with the Osage, and expanded their businesses in St. Louis to many parts of the emerging economy. As US Indian agent, Chouteau negotiated the Osage Treaty of 1808 on behalf of the United States government, by which the Osage agreed to sell large portions of their lands in present-day Missouri and Arkansas in exchange for federal annuities.

In 1826, Marguerite Scypion, an enslaved woman of African-Natchez people descent, filed a "freedom suit" against her master Chouteau. As a woman of maternal Natchez descent, in 1805 Marguerite had filed the first freedom suit in St. Louis and won, but a higher court had overturned the decision. Because their mother Marie-Jean Scypion was of maternal Natchez descent, Marguerite and her sisters said that their mother had been held illegally after 1769, when the Spanish governor ended Indian slavery; and her descendants should be freed. In 1826, Marguerite and other Scypion descendants renewed their suits. They won a state court decision by a unanimous jury in 1836 in their favor, which withstood challenges up to the United States Supreme Court in 1838, and officially ended Indian slavery in Missouri.
Major achievements
Established 1st permanent White settlement in Oklahoma (now Salina) in 1796.

He was a founder of St. Louis Missouri Fur Company in 1809.
Connections
father: Rene Auguste Chouteau

mother: Marie Therese (Bourgeois) Chouteau

1st wife: Pelagie Kiersereau

2nd wife: Brigitte Saucier

children: 9 sons including Auguste Pierre, Jean Pierre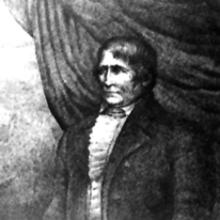 Born October 10, 1758
Died
July 10, 1849
(aged 90)
Nationality
1794 - 1802

Stationed with Osage Indians as commandant of Fort Carondele


1803

United States agent for Osage Indians
West of the Mississipi River
Contributor  
Career

Stationed with Osage Indians as commandant of Fort Carondele
United States agent for Osage Indians

Address
Membership description
School and college years description
Physical Characteristics
Go
up
Edit Profile