Sheikh Raisuddin (Rais)
Prof. Sheikh Raisuddin, Indian Science Educator. Achievements include research in areas of ecotoxicology, immunotoxicology and genotoxicology. Member Society Toxicology (life), Environmental Mutagen Society (life), Indian Immunology Society (life), Academy Environmental Biology (life), Association of British Scholars (life).
Professor Department of Medical Elementology & Toxicology, Jamia Hamdard (Hamdard University), New Delhi.
Education
Career
Scientist Industrial Toxicology Research Center, Lucknow, 1991-1993, Bose Institute, Calcutta, India, 1993-1994. Assistant professor Jamia Hamdard, New Delhi, 1994—2003, associate professor, since 2003. Visiting scientist University Plymouth, England, 2003, Research Center for Environmental Chemistry and Ecotoxicology, Masaryk University, Brno, Czech Republic, 2004—2005.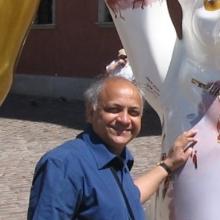 1981

1983

1994

July 1, 1986 - August 29, 2015

1991 - 1993

1993 - 1994

1994 - 2003

2003 - 2009

2006 - 2008

2009 - present