C. Eugene Steuerle
C. Eugene Steuerle, American economist. Decorated Bronze Star; named Outstanding Graduate, Dayton University College Arts and Sciences, 1968. Served to 1st lieutenant United States Army, 1968-1970. Member American Economics Association, National Tax Association (chair federal taxation and finance committee), Tax Institute American, National Economics Club Educational Foundation (former president).
Background
Education
Career
Economist tax analysis department United States Department Treasury, Washington, 1975-1982, assistant director, 1982-1983, deputy director for domestic taxation, 1984-1986, deputy assistant secretary, 1987-1989. Senior fellow The Urban Institute, since 1989. Federal executive fellow Brooking Institute, Washington, 1983-1984.

Director finance and taxation projects, resident fellow American Enterprise Institute, 1986-1987. Adjunct faculty American University, Washington, 1976. Original organizer United States tax reform, 1984-1986.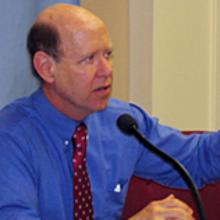 Born
December 22, 1946
(age 70)
Nationality
1968

1972

1973

1975

1975 - 1982

1983 - 1984

1986 - 1987

1986 - 1987

1989