Background
Education
Bachelor in Political Science, Drake University, Des Moines, 1968. Associate of Arts in Real Estate, San Diego City College, 1976. Master of Science in Acquisition and Contract Management, West Coast University, Los Angeles, 1987.

Postgraduate, Walden University, since 1992. Graduate in Overseas Procurement, Kellogg Brown & Root Procurement Academy, Houston, 2005.
Career
Real estate sales staff, 1972-1979. Clerk GS 3 Naval Ocean Systems Center, 1979-1980. Contract intern, contract administrator Office of Naval Research, 1980-1984.

Contract specialist, warranted ordering officer General Service 1102-1111 Naval Weapons Station, 1984-1986. Contract specialist Gen Service 1102-1112 Navy Space Systems Activity, 1986-1988. Procurement analyst Gen Service 102-12 COMNAVAIRPAC, 1988-1998.

Defense contract manager Defense Contract Management Command, 1998—2000. Senior vice president Azan Corporation Group, San Diego, 2001—2003. Subcontract administrator Kellogg, Brown & Root, Houston, 2005—2006.

Contractor consultant, 2006—2008. Delaware San Diego State University to the National Academy Conference for Contract Management Educators, 1991, 92, 93. Professional consultant Computer Applications, Inc., 1992.

Member technical program committee, chairperson for electronic data interchange Society of Logistics Engineers, 1995. Member Golden Hill planning committee City of San Diego. Adjunct professor San Diego State University, chairman curriculum review committee for acquisitiion.

With United States Army, 1968-1972, Vietnam.
Works
Membership
Member Golden Hill planning committee City of San Diego. Fellow National Contract Management Association (life. Certified professional contract manager).
Member American Bar Association (member sub-committee public law sector, sub-commission on intellectual property), Sons of the American Revolution (national, California and San Diego chapters), Veterans of Foreign Wars (life), American Arbitration Association (national panel member), Society Government Meeting Planners (vice president San Diego chapter), Society Logistics Engineers, San Diego Athletic Club, San Diego Writers and Editors Guild, Author's Guild (life, past president), Great Books Discussion Group San Diego, Black Tie Club International, National Society Sons American Colonists (life).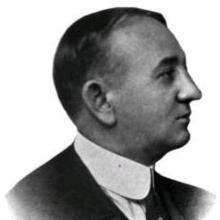 Born
February 14, 1946
(age 71)
Nationality
1968

1976

1987

2005

1972 - 1979

1979 - 1980

1980 - 1984

1980 - 1984

1984 - 1986

1984 - 1986

1986 - 1988

1988 - 1998

1998

2001 - 2003

2005 - 2006

2006 - 2008