Sunil Bharti Mittal
Sunil Mittal is a telecommunication tycoon with the net worth of 6.8 b. He is the founder, chairman and Group CEO of Bharti Enterprises that is an Indian business conglomerate with interests in telecom, financial services, retail, realty, manufacturing and agriculture. famous for BhartiAirtel Ltd. that is the third largest mobile operator in the world.
Background
Sunil Mittal belongs to an Indian ethnic 'Baniya' family. He has two brothers, Rakesh and Rajan who helped him built Bharti Group into India's largest mobile phone operator in just ten years. His father, Sat Paul Mittal, former Member of Paarliament was always in the public eye. Sunil did not want to follow his father's footsteps and started a business at a very early age. Initially he joined the Wyanberg Allen School in Mussoorie but later he attended Scindhia School at Gwalior. In 1976, Sunil graduated with a Bachelors of Arts and Science, from the Punjab University, Chandigarh.

From a very early age Sunil started a business with his two brothers and a friend in 1976. He started his career with selling bicycle parts, and later saw an opportunity in telecom in the mid-1990s as India opened up to the private sector. Bharti began with a licence to operate a mobile network in Delhi. And eventually expanded Bharti's coverage nationwide, building the leading mobile operator with control of a quarter of the world's fastest-growing mobile market.
Career
The company Bharti Enterprises was founded by Sunil Bharti Mittal along with his two siblings in 1976. The company started with manufacturing bicycles before diversifying into various sectors. It entered into telecommunications industry in 1995. Nowadays it owns various businesses spanning across telecommunications, retail, financial services and manufacturing, including: Bharti Infratel, Bharti Retail, Bharti Walmart, Bharti TeleTech, FieldFresh Foods, Bharti AXA General Insurance and Life Insurance, Centum Learning, Bharti Foundation, Bharti Realty.
Major achievements
Mittal started his first business in 1976, which was to make crankshafts for local bicycle manufacturers with a capital investment of ` 20000, borrowed from his father, when he was only 18 years of age. Later, in the early 1980s he bought licenses of importing from the exporting companies in Punjab and imported thousand of portable electric-power generators from Japan. Mittal was the very first Indian entrepreneur who saw the mobile telecommunication business as a major growth area. Once his ideas and plan of actions were approved by the government in 1994, Bharti Cellular Limited (Bachelor of Civil Law) was founded in 1995 and the brand 'Airtel' was launched.Today, Sunil Mittal runs a successful empire with a market capitalization of approximately $ 2 billion and employing over 5,000 people. He has been honored with several awards.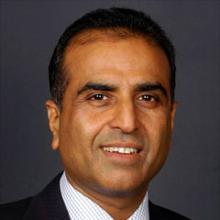 Born
October 23, 1957
(age 60)
Nationality
Ethnicity:
1965

1967

1971 - 1976

1976