Tsung-yang Lin (Lim C. E.)
Education
Tsung-yang Lin matriculated at the University of London in 1911, after which he was awarded the King's scholarship tenable for 5 years at Hongkong University, which conferred upon him the Bachelor of Medicine, and Bachelor of Science degrees in 1916. Mr. Lin took postgraduate studies at the Hongkong Government Bacteriological Institute in 1917.
Career
Tsung-yang Lin was elected as chairman of the University Union. Then he was appointed house-physician and housesurgeon to the Government Civil Hospital in Hong kong in 1916, resident medical officer of the model Peking Central Hospital in 1918.

Mr. Lin was awarded a Rockefeller fellowship from 1919-1922 for special study on preparation of the vaccines and serums used in the treatment and prevention of diseases in leading American and European institutions, was assistant professor of bacteriology at the Peking Union Medical College and concurrently technical supervisor at the national epidemic prevention bureau in 1927, acting director of the national epidemic prevention bureau in 1929, professor of bacteriology and head of the Department of Bacteriology and Immunology at the P.U.M.C. since 1930.

He was an editor of the Hongkong University Magazine in 1914, manager of the Chinese Students Monthly in the U.S.A. in 1921 and managing editor of the National Medical Journal of China in 1928-1931, editor of the Chinese Medical Journal since 1932, president of the Chinese Medical Association in 1934-1936, writer on public health and immunology and author of "Laboratory Manual in Bacteriology".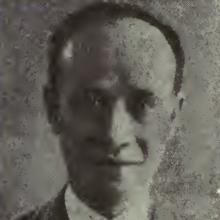 Born 1891
Nationality
Ethnicity:
1911

1914

1916

1916

1917

1918

1921

1927

1928 - 1931

1929

1930