Fredrik Reinfeldt (John Fredrik Reinfeldt)
Fredrik Reinfeldt is the Prime Minister of Sweden, leader of the liberal conservative Moderate Party and former President of the European Council.In 1992, Fredrik Reinfeldt married Filippa Holmberg, who is currently a Moderate Party County Councillor for healthcare issues in Stockholm.
Background
At present, Reinfeldt has moved into the official residence of the Prime Minister of Sweden, the Sager House, together with his wife and their three children.
Education
University of Stockholm, Bachelor of Business Administration. 1990; spoken languages: Swedish, English.
Views
conservatism
Quotations: " Swedish companies offer a broad spectrum of know-how, products and services in advanced environmental technology, bio fuels or sustainable urban development " Fredrik Reinfeldt
Personality
Interests
Writers: Tomas Tranströmer
Sport & Clubs: football
Books, family; finance, taxation, European Economic Community.
Connections
Spouse Filippa Desiree Amanda Reinfeldt (née Hulmberg), 1992.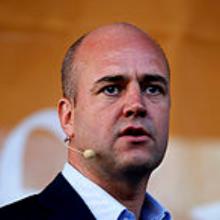 Born
August 4, 1965
(age 52)
Nationality
1990

Stockholm University

1990 - 1991

Deputy secretary, to Stockholm City Commissioner


1991 - 1994

member, Riksdag
Sweden

1991 - 1991

secretary, to Stockholm City Commissioner


1999 - 2003

member, Executive Committee of Moderate Party Group


2000 - 2000

member, Committee Finance


2002 - 2003

member, Riksdag
Sweden

2002 - 2003

first deputy chair Executive, Committee of Moderate Party Group
Sweden

2002 - 2003

group leader, Committee of Moderate Party Group


2006

prime minister, prime minister Government of Sweden
Sweden
Contributor  
Gender
Album
Religions
College/University

Stockholm University

Department/Faculty
major
Start date

Career

to Stockholm City Commissioner
to Stockholm City Commissioner
Riksdag
Riksdag
Riksdag
Riksdag
Riksdag
Riksdag
Executive Committee of Moderate Party Group
Riksdag
Committee of Moderate Party Group
Committee of Moderate Party Group

Location
Start date
Finish date

prime minister Government of Sweden

Location
Position
Finish date

Riksdag

General Info
Relatives

Brigitta

Nationality
Activities

leadership and management consultant

Bruno

Person Photo
Views and World outlook
Quotations
Favorite Sports & Clubs
Favorite writers
Activities

Member of the Riksdag
Leader

College/University
Career

Riksdag
Riksdag
Committee of Moderate Party Group
prime minister Government of Sweden
to Stockholm City Commissioner
to Stockholm City Commissioner
Committee Finance
Executive Committee of Moderate Party Group
Committee of Moderate Party Group

Address
Family description
Membership description
Party affiliation
School and college years description
Other interests
Personality
Quotes from others about the person
Physical Characteristics
Go
up
Edit Profile