Susan Morrisey Livingstone
Background
Education
Career
Researcher Senator Mark O. Hatfield, Washington, 1969-1970. Chief legislation and press assistant Congressman Richard H. Ichord, 1973-1975, administrative assistant, 1975-1981. Consultant Congressman Wendell Bailey, 1981.

Executive assistant VA, 1981-1985, associate deputy administrator logistics and management, 1985-1986, senior procurement executive, 1985-1989, associate deputy administrator logistics, 1985—1989. Assistant secretary Army United States Department of Defense, 1989-1993. Vice president health and safety services American Red Cross, 1993-1997.

Consultant management, 1997-2001. Under secretary of Navy United States Department Navy, Washington, 2001—2003. Member return-to-flight task group National Aeronautics and Space Administration, 2003—2005.

Member interagency committee on women's business enterprise The White House, 1985-1989, member commission future American's Veterans, 2006-2007. Member President's Council on Management Improvement, 1985-1986. Consultant Defense Science Board, 1998, 00.

Member advisory board Martin Institute University Idaho, 2000-2001. Member national security studies board advisory, Maxwell School Syracuse University, since 2003. Board directors The Atlantic Council, 2004.

Member advisory subcommittee on naval history Secretary of Navy, 2004-2006.
Membership
Vice chair White House Commission on National Moment of Remembrance, 2002—2003. Board directors The Army History Foundation Inc., 2005—2009. Member Procurement Round Table (board directors 1994-1903, 05—), Association United States Army (board directors 1994-1996, council trustees 1996-1901, Chief Executive Officer, deputy chairman 2000-2001), Women in International Security (member advisory board 1994-1997).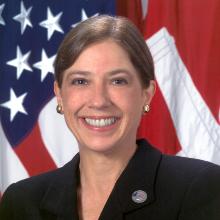 Born
January 13, 1946
(age 71)
Nationality
1968

1973

1969 - 1970

1981

1989 - 1993

1993 - 1997

1997 - 2001

2001 - 2003

2003 - 2005