Martin Joseph O'Malley
Martin Joseph O'Malley, American Governor of Maryland, former mayor. Named The Best Young Mayor in the Country, Esquire magazine, 2002; named one of America's Top 5 Big City Mayors, TIME magazine, 2005; recipient Service to Humanity award, Maryland Junior Chamber of Commerce, 1994, Legislation Achievement award, Baltimore Board Realtors. Member of Maryland Bar Association, Friendly Sons St. Patricks.
Background
Education
Career
Legislation fellow to United States senator Barbara Mikulski, 1987—1988. Assistant state's attorney City of Baltimore, 1988-1990. Member from 3rd District Baltimore City Council, 1991—1999.

Mayor City of Baltimore, 1999—2007. Governor State of Maryland, Annapolis, since 2007. Co-chairman task force on federal-local law enforcement United States Conference Mayors.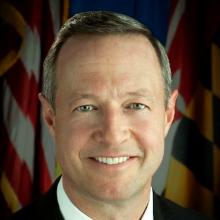 Born
January 18, 1963
(age 54)
Nationality
1985

1988

1987 - 1988

1988 - 1990

1991 - 1999

1999 - 2007

2007