Background
Career
Lunn fought in the Spanish-American War in 1898. He was elected Commander-in-Chief of the United Spanish War Veterans in 1931-32.

Lunn was Mayor of Schenectady, New York from 1912 to 1913 and from 1916 to 1917, elected on the Socialist ticket, and from 1920 to 1922, elected as a Democrat. Lunn was elected as a Democrat to the 65th United States Congress, and served from March 4, 1917, to March 3, 1919. In 1920, he was defeated by Harry C. Walker in the Democratic primary for U.S. Senator from New York.

Lunn was Lieutenant Governor of New York from 1923 to 1924, elected on the Democratic ticket with Governor Al Smith in 1922, but defeated for re-election in 1924. Lunn owned the land upon which Lath maintained his famous ice house in the leading collateral agreement case, Mitchell v. Lath (Ct. of App. of N.Y, 247 N.Y. 377). The facts of the case are mentioned in the official comments to the Principles of European Contract Law.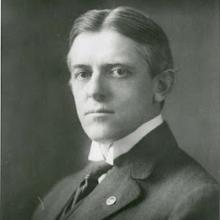 Born June 23, 1873
Nationality
Ethnicity:
1901 - 1904

1901

1904 - 1909

1909 - 1915

1912 - 1914

1916

1917 - 1919

1922 - 1923
Contributor  
This person on the Internet

Personal site: http://en.wikipedia.org/wiki/George_R._Lunn
Career

Ordained Presbyn. ministry
left Socialist Party
left Socialist Party,1916
Ordained Presbyn. ministry,1901
Go
up
Edit Profile